These days, creativity is no longer an option in marketing campaigns. In fact, it is what separates an ordinary marketing campaign to a viral one.
So if you want to get people talking about your brand, you have to move away from the traditional marketing budget methods and try to think outside of the box. It is time for some guerrilla marketing campaign.
Guerrilla marketing campaign are effective because they are unique, creative and cost-effective. Today, I will show you 30 brands that are able to do this successfully.
1. Nikon
Nikon did their campaign by laying down a red carpet and having a group of paparazzis take the photo of the passersby. It easily catches attention and even forces some people to stop and look twice. What makes this different from an ordinary billboard is that it has a mechanism where the cameras flash when someone passed by. This forces people who are just passing by to stop and look at what's going on. It's fun and different. When really, it is just an advertisement for NIkon. I think that it is a good idea.
2. Foursquare
When Foursquare attended the 2010 SXSW Convention, they did not have a booth. But this did not stop them from getting some attention. They did this with the help of two rubber balls and a chalk.
So what they did is paint 4 squares on the ground and asks the players to play the game. Because of the uniqueness of the approach, it instantly gained the interest of thousands of participants who were found lining up just for the game.
3. Swiss Skydive
How would you feel if you have ridden a glass elevator that feels as if you are falling to the ground? This is what Swiss Skydive did in their marketing guerrilla, marketing budget campaign. They did not only surprise people who are just about to get on the elevator. They also shared the feeling of falling. This is what Skydiving is all about. It is about the thrill of letting yourself loose and falling freely. Though this may not be favorable for everyone (especially those with fear of heights), it is still a brilliant guerrilla marketing campaign that is able to get the attention of many.
4. Wii 
Wii's marketing guerrilla ideas for the campaign was launched just when the company has lost $453 million. It was launched in Italy in 2007 as a board of post-it notes reminding people to play the old games in their childhood. The campaign is entitled "Wii'll not forget". And it uses nostalgia to get more people to go back to playing Nintendo. The result is astonishing. Since the idea is unique, it is well received by the people with most of them sharing the board on social media.
5. Unicef
No one understands how it is to have dirty water. So Unicef had this idea of creating a vending machine of dirty water. They specified different types of dirty water by disease. There's malaria, cholera, typhoid, dengue, hepatitis, dysentery, salmonella and yellow fever. The machine receives a dollar for every bottle of dirty water. It is amazing that people are willing to give a dollar just to see what will come out. The best part is that they also shared the vending machine on social media.
6. Maximum Ride
Maximum Ride is a series about kids who can fly. To show how it feels, they launched a campaign in Auckland showing how it feels to stand at the edge of a building. They did this by painting the ground in a way that will make someone feel like they are falling. When really, they are just at the edge of the stairs. The result is a ton of photos shared on social media promoting the series for them.
7. Dove
Dove took social media by storm when they launched their beautiful or average campaign. This triggers the issue of confidence in most women who only view themselves as ordinary, when really they can be beautiful in their own way. This challenges the notion of beauty as well as triggers an emotional response from the audience. The video shows real women who are unsure of the door that they should enter. It shows the emotions that they go through as well as how they feel about themselves. With this, it is not only the campaign that became viral. The video became viral as well.
8. McDonalds
Mcdonald launched an interactive billboard where a sundae pops up from time to time. And when it does, all the target audience need to do is catch it in a photo and get it for free. This is a great way of catching people's attention. Also, the free item amplifies the value of the campaign and makes it worth sharing.
9. Coca Cola
Coca Cola recently changed their vending machines in different locations. Instead of dispensing one coke bottle, it started giving an infinite number of bottles. Later, it even dispensed flowers, pizza and sandwiches. It really embodied the concept of Coca Cola of sharing happiness.
10. Ikea
Ikea had several guerrilla marketing campaigns. One of these is creating drawers out of staircases showing how Ikea helps in saving spaces in homes. Aside from this, they also think of other creative ways to promote their brand on paper and video. One time, they have used a magazine as a closet and showed how augmented reality can help people plan their homes.
11. Weight Watchers
Weight Watchers had a interesting advertisement where there's a fat woman who is able to lose weight as more people get its number. On the top is a headline saying 'Together, we get rid of pounds!' and you can see the woman slowly losing their inflated tummy and saggy arms as more people get their number. The campaign is relevant and clearly shows the benefits of their brand in a visual way.
12. Tinder
Tinder started small. In fact, it just started with 5,000 users. It grew by joining the best college parties and getting attractive people on board. They went for fraternity and sorority groups. After getting as much as 200 hot sorority girls, a ton of men were excited to sign up. Because of this, Tinder instantly grew to 15,000 users.
13. Ice Bucket Challenge
The Ice Bucket Challenge is a cause to support people with ALS. It provides an option for people to do the challenge or for them to donate some money to the cause. And it is not done without basis. The ice bucket challenge gives the same feeling that ALS sufferers have. By doing it, people can get to feel of how they are feeling. This became a smashing success because it is more than just a challenge for attention. Instead, it is for a worthy cause. Because of this, the campaign is able to raise as much as $11.4 million.
14. Samyang Fire Noodles
It was just this 2017 when you see people eating packets of Samyang Fire Noodles. It is designed to test the tastebuds on how much it can last in terms of tolerating spiciness. What makes the noodles so special is its varieties. It is not limited to the original Samyang Fire Noodles. There is even the 2x and 4x varieties. From here, Youtubers and social media influencers would film themselves eating this noodles and people would be entertained watching them suffer. The result is a massive spike of sales for Samyang.
15. Grasshopper
Chet Holmes of the Ultimate Sales Machine wanted to reach out to 100 most influential people on the Internet. But he knows that he will not get the attention that he wants by simply emailing them and talking to them. So what he did is create a company called the Grasshopper where he manufactured chocolate covered grasshoppers with the message "You're a risk taker, a dream realizer. What's left to do that you haven't already done? Eat a grasshopper." The result was astonishing. Influencers could not stop themselves from sharing this product with their followers.
16. Uber
Uber held a campaign to help stray kittens get adopted. This is called Uber Kittens and it is about delivering kittens to users and allowing them to play with it for 15 minutes. From here, they have the option to adopt it. The result was a massive amount of shares. This is a good example that different types of companies can work together for a guerrilla campaign.
17. King Kong 3D
How big is King Kong? You'll know once you see his footsteps. This is what they did when they created huge footprints on a beach alongside a smashed jeep. It will make you feel as if you are really inside of the movie. The result of this campaign is a massive amount of shares and photos on social media.
18. 2012 Movie Advertisement
The same happened in the Movie 2012. 2012 is a movie about the end of the world. It detailed what will happen. It was launched in 2010 and instilled fear on the year to come. Its campaign is comprised by more than just a billboard. Instead, it posted a photo of water all around the tunnel with an illusion that the water is seeping through. This will make passersby feel as if they are inside of the movie.
19. Chuckie the Movie
There is one doll that have scared people through the years and this is Chucky. In the release of their movie Curse of Chucky, they have set up a prank in a bus stop. At first, it may seem like an ordinary poster. But as the light blinks, Chucky comes out and chases them making them panic. They did this multiple times too and it was really scary. The result are massive views and shares.
20. Carrie the Movie
Telekinesis is scary especially if it came from an angry girl. Seeing it in a movie is not that scary but it may not be the same case when you see it in real life. This is what the crew of Carrie, a horror movie, did in a cafe in New York City.  They set up the entire cafe so that the tables will move on its own. The result was a massive amount of views and shares along with some real traumatized people.
21. Rings Movie Prank
Here is another prank for a movie and it has been done for the Rings Movie in 2017. It was staged in an appliance store with one television acting as a door for the actress to come out. It starts with a salesperson talking to the customer and then the actress is asked to come out of the television resulting to the customers running for their lives. This has resulted to millions of views and shares.
22. Burn 60
Burn 60 is a pill that aids in dieting. It was able to showcase what it does through a drawstring back that shows what it does. The girl's legs becomes thinner when the bag is closed and it becomes wider when it is open. Then, it has the bottle of Burn 60 at the lower right side of the bag. It is quite a bright idea and also gives the customer something to take home.
23. Lipton Clear Green Tea
Lipton worked in the same way. They also gave away bags that look like teabags. I find this to be really creative. The best part is that the brand name can be clearly seen from the bag. This instantly promotes the brand and the tea as well. Also, it being a bag means that people who have it can promote it anywhere they go. The best part is that they will be doing the word of mouth for the brand.
24. DHL
What's the first thing that comes to your mind when you think of DHL? It's all about deliveries, right? DHL reminds their customers about who they are and what they do through its unique billboard. Instead of the typical billboard that showcases an image of people using the brand or just having the brand name itself, DHL had a 3D delivery box. I find this to be quite creative and attention getting.
25. Prison Break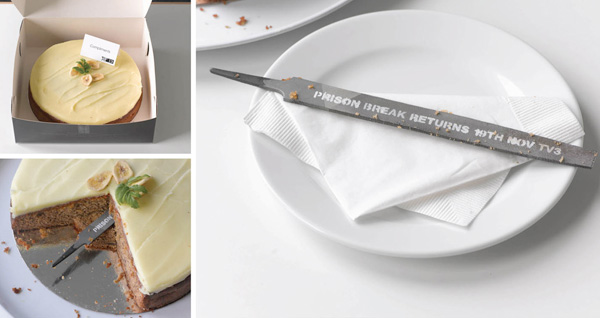 Imagine that someone gave you a free cake. You are excited to eat it but then you find that there is something sticking out inside of it. This is what Prison Break did to promote their new season. They included this stick insider of a cake to instantly get in front of the eyes of their customers. They even included a date on when the series will start. This is a subtle and interesting way of word of mouth.
26. Nivea Bench
Nivea is a brand that is focused on moisturizing skin. One of the things that they prevent is cellulite. They reminded their target audience about this by having a unique bench that has one side with holes and another side with smooth finish. Then, they included their brand in the smooth side. I find this to be quite a unique way to get their point across as the 'hole' side imitates how the skin looks when it has cellulite.
27. Kitkat Bench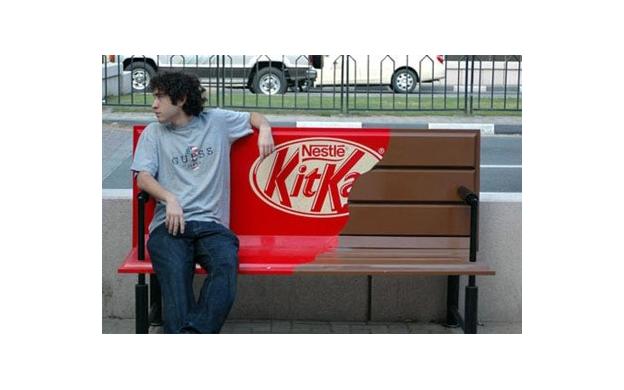 Kitkat also had the same marketing strategy with the KitKat bench. It is perfect for the brand for KitKat really imitates the wood on a classic bench. The only difference is that they now put the brand on their benches. It is perfect for their tagline as well which says 'Take a break'. A bench can serve as a haven after a long walk and gives a person his much needed break.
28. Fitness First
Fitness First had another strategy. Instead of just posting a random poster in bus stops, they transformed the bus stop to a weighing scale which measures the weight of the person that sits on it. It reiterates the need for fitness which is just what the brand is all about. It is great because it focuses on the need that the brand wants the customer to remember.
29. CoverGirl
Covergirl was promoting their Lash Blast Length Mascara. It comes in the color yellow. So what they did is that they transformed a city turnstile to mimic how it looks like. This is great because they put the poster of the mascara beside it.
30. Duracell
Duracell is all about power and batteries. They demonstrated their power by offering more than just a mere poster. Instead, they lit the streets with their flashlight posters. This is a vertical flashlight that really emits light. With this, they are able to remind the world about their brand while helping people at the same time.
There are many ways to do guerrilla marketing for your business. Here are some of the basic ones that most brands do.
Wall Graffiti
You need to think outside the box of a normal banner. You need to think about what your brand offers and remind them of what they need. Then, you can create a unique wall graffiti based on that.
Stealth Marketing
Sometimes, advertising should not be direct. As I have said earlier, it is not about directly telling people about your products and asking them to buy. You can remind them of your products by showing it to them or you can remind them of what they need and the benefits that they can get out of your product. If you can, offer to help. It is better to do something that would contribute to the community.
Stickers or Giveaways
Some brands offer giveways to their customers. It's normal. But you should think outside of the box when it comes to the products that you are showcasing. Be sure that it shows your brand and leads people back into it.
Publicity Stunts
This is by far the most effective. Not only does it cause word-of-mouth marketing, it can also result to photos and videos being shared on social media. However, this requires the most creativity and investment. But the result lasts a very long time.
Games
People simply love games and they love winning. Now, if you can host some type of contest in your business, then more people would be willing to participate. But this can only happen if the prize is worth fighting for.
Are You Doing Guerrilla Marketing in Your Business?
How are you promoting your products? Are you still doing the same thing that other people are doing? It is time to get your creative juices flowing. What have worked in the past will not work today. After all, how can you expect yourself to stand out from a sea of businesses all vying for the same amount of attention? To get attention, you should be worthy of it. You should do something that will make people stop and look twice on your brand. It will make them question their needs and think about why they need you. This is what guerrilla marketing is all about.