//=get_the_date()?>
10 Best eCommerce Marketing Tips To Outrank Your Competitor in 2021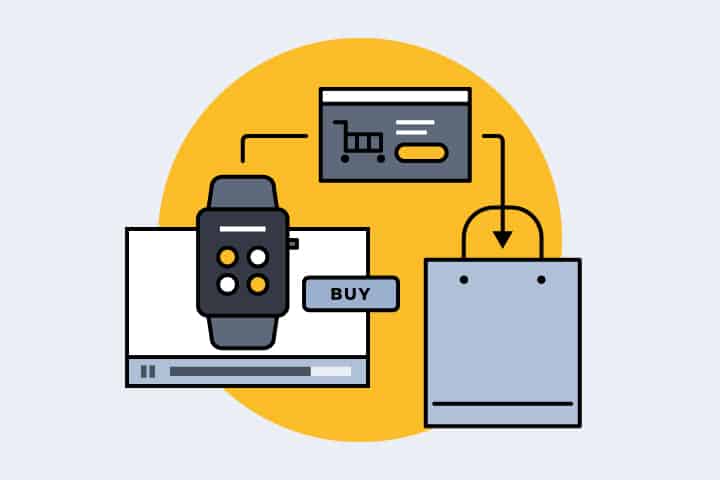 eCommerce is really thriving now. While people are trying to stay at home, more and more online stores open up to satisfy the needs of customers. Moreover, since many employees have lost their jobs and eCommerce does not have big launch costs, people see eCommerce as a perfect opportunity to keep themselves busy and pay rent.
However, due to the situation described before, it is easy to never be noticed by customers. There are a lot of stores that have the same products and the same prices. You have to possess something unique in order to not be swamped by others.
Marketing plays a big role when it comes to showing the unique traits of your business and getting noticed. We will discuss 10 eCommerce marketing tips to outrank your competitors. You may start using them all at once or start small and add on as you go. In any case, you will notice the traffic increase soon!
#1 Choose The Right Niche
Choosing the right niche is an absolute necessity to start a successful eCommerce store. Discovering what the right niche is for you is quite challenging but we have prepared some questions that will totally shape your eCommerce niche.
What are you interested in? What are you familiar with?
Is it in demand?
How many competitors do you have to outshine? – The less – the better!
#2 Choose The Right eCommerce Tool
Nowadays the tech world has a wide range of eCommerce tools that make launching a store so easy. However, the range is simply too wide. Here are 6 features you should be looking for in an eCommerce store:
secure (SSL and automatic updates)
easy to navigate and set up a store
SEO-friendly
has good analytic tools
helpful customer support
offers a variety of payment options to customers
#3 Content Marketing
70% of marketers< are actively investing in content marketing. Such a high number indicates that content marketing is an essential part of your general marketing strategy. How so?
First of all, good and optimized content always boosts SEO. If your store ranks up on the first page of search results, you are far more likely to be seen than when you are on the fifth page: no one goes that far in search engines, they usually choose from the first two pages.
Secondly, if you have valuable content that is worth sharing, you get free advertisement. People want to share a useful piece of advice but those who see it will visit your site and find out that you also own an eCommerce store. Sharing means higher ranking as well.
Thirdly, this is a good way to keep people engaged. Usually, after a customer buys what they need, they stop engaging with the business. If you own no blog, podcast, or social media – why would a customer stay engaged, to look at your product pictures? However, if you do share valuable content, customers are more likely to stay engaged and buy from you again.
These were only three out of many other reasons to choose content marketing but they are powerful enough to convince anyone: you rank higher in search results, you get exposure for free, and you boost customer retention and lifetime value of a customer.
#4 Build a Brand
Every store offers a variety of sneakers that are of good quality and at a reasonable price but not every store is Nike. People will choose the brand over price. Brand means expressing oneself and translating all your values through this pair of shoes. It also means safety and confidence that the product is top-quality.
Create a brand: tell your story, show the face of the brand, share the values, make it recognizable with fonts, colors, and a logo.
#5 Contextual Marketing
Marketing is as personalized as ever and contextual marketing creates a big part of personalization. You show the client that you do understand what they are going through right now or what they are passionate about at the moment and show how your product will enhance what they experience at the moment.
#6 Add Self-Service Options
Make sure that it is easy for your customers to make a purchase without calling, texting, or emailing anyone. People, especially the young generation, are ready to spend a couple of hours on the website reading guidelines rather than interacting with human beings. So make sure that you have a site that is easy to navigate, clear guidelines, and a well-written FAQ.
#7 Email Marketing (Happy Birthday, Wishlists, Abandoned Carts)
Email marketing is underestimated but it is wrong. The average opening rates of marketing emails are 18% which is pretty impressive. It is a key if you want to remind customers about your brand, sales, and new arrivals, personalize your marketing strategy (greeting, Happy Birthday, and wishlist emails) or get back a customer who abandoned his chart.
#8 Optimize For Different Devices
In fact, 66% of eCommerce time is spent on smartphones. So it is crucial that you make the experience of these users as pleasant as possible by investing in mobile optimization. You can choose a mobile-friendly theme on WordPress, use Google tools, or do the work manually for preserving the aesthetics of your brand and make it more custom.
#9 Join Communities on Reddit
People trust their communities more than they trust a random advertisement. You can find a community that contains your target audience (moms, developers, or writers, for example) and give them a tool (your product) that can make their life easier.
#10 Be as Multilingual as Possible
eCommerce means a great opportunity for internalization. However, the farther you go from your location, the fewer people will understand the language of your website. Try to add the most popular languages and, based on the analytics of your target audience, add their language. This will give them a feeling of connection to your brand because they will feel cared for.
Conclusion
These 10 tips are easy to follow but you will outrank your competitors in no time and have a flourishing business in the long run.