//=get_the_date()?>
5 Ways Instant Messaging Can Boost Ecommerce Sales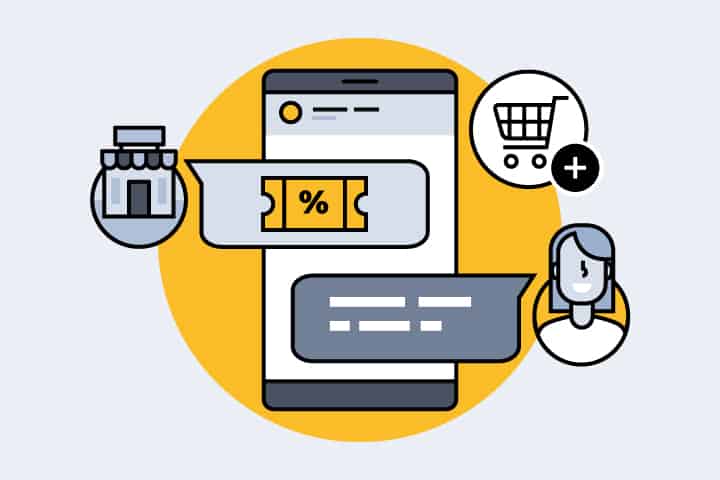 There's a lot to consider when it comes to ecommerce. In such a competitive space, it's essential to find new ways of gaining an advantage over your rivals – whether it's through offering or making a unique offer on price, for example. 
Standing out from the crowd is tough, not least because consumer expectations are changing all the time. Shoppers expect to be able to engage with their favorite brands in ways we would have considered unthinkable just a few years ago.
As a result of this rapid change in how consumers relate to brands, businesses face a difficult challenge in their efforts to stay ahead of the game. It's not enough to stick to one customer engagement platform and concentrate all your efforts on that. Instead, you have to take a diverse approach to consumer engagement and communications. This is necessary in order to meet people where they're at – and to avoid the risk of being left behind by your more nimble and adaptable competitors.
We know all about the importance of using social media to engage with consumers. As well as the potential benefits it can have in terms of sales and revenue. But we also need to be conscious of the fact that lots of people like to communicate with businesses via instant messaging apps. These provide a convenient and private way (as opposed to, say, tweeting at a brand account) of communicating with a firm and making queries.
Making use of instant messaging helps to ensure that businesses are more accessible to present and potential customers. This can obviously have positive effects on sales and also encourage repeat visits. Customers who know they can expect an attentive kind of customer service from your business are more likely to keep coming back to it. This all has significant benefits for your business's bottom line – and at the end of the day, that's what counts.
Here we'll take a quick look at five ways in which your business can enjoy improved ecommerce sales through instant messaging. Read on to learn what it can do for you.
.
1. Reaching Younger Consumers
As we all know, younger consumers are famously addicted to technology. Nobody is quicker at getting to grips with new tech, apps, and so on than millennials and the upcoming cohort of so-called 'zoomers'. If you're going to tap into this young market, which loves to be in regular contact with brands and expects them to be easily reachable, then it helps if you're available via instant messaging as well. Public-facing social media accounts are definitely important, but you also need to have a presence on instant messaging apps.
Another point to remember here is that these consumers generally have their mobile devices (not to mention laptops and tablets) alongside them almost at all times. They're checking them throughout the day, from when they wake up to when they get ready to go to sleep. So this is a very important avenue through which to communicate with younger shoppers. It also provides one of the most useful resources for startups, in that newly-established firms can gain an advantage on their bigger rivals by being available through instant messaging apps.
People expect to be able to purchase goods and services with the minimum of hassle, wherever they happen to be. This is in line with the recent trend towards greater flexibility in office technologies. The way we do business, whether we're actually running a firm or we're just ordinary consumers, is being reshaped all the time. Younger consumers are more demanding in this respect than most, so don't get left behind.
2. Tailored, Responsive Marketing
It's also important to remember that consumers today expect marketing to be tailored to their specific needs and preferences. If it isn't relevant to them personally, the chances are it'll just pass them by. This is why it's so essential that you know how to reach consumers with tailored marketing material. Instant messaging allows you to do this. IM and live chat allows you to engage with customers directly to address their queries. This saves them from having to go around the houses and boosts the chances of conversions.
The crucial thing to remember here is that personalized communications are much more effective than their generic counterparts when it comes to engaging consumers. Messaging that's tailored to your customers is a must-have in the modern consumer environment.
3. Building Lasting Bonds With Customers
Customer loyalty is the foundation of any successful business. Bigger firms can, to an extent, rely on brand recognition and familiarity to keep consumers on board. For smaller firms, it's more difficult. They have to work harder both to win and to retain customers. That's because they can't rest on the fact that consumers already know who they are and what they do. They have to find ways of proving to customers, again and again, that they can be relied upon to provide an excellent service.
There are lots of ways they might go about this. They might prioritize offering an exceptional in-store service if they have a brick-and-mortar presence. They may also seek to make themselves easily available to customers, through internet phone services for example. A VoIP phone service is certainly extremely useful for any business. This needs to be coupled, however, with a more proactive approach as well.
This is where instant messaging and live chat can come in particularly useful. Such channels let brands enhance the customer experience and make it clear to them that your business is committed to their welfare.
Building a sense of community is also important to strengthening consumer loyalties. Group messaging channels can do a lot to foster these bonds, as well as social media groups and regularly active accounts. Collaboration is the watchword of modern business, and cementing lasting ties between consumers and brands is very much a part of this. An active and bustling online community – especially one that's formed of people who are united primarily by loyalty to your business – can do a great deal to boost sales and thus drive revenue.
4. Actively Soliciting Customer Feedback
You won't know for sure how well your business is doing unless your customers are prepared to tell you. This is why you need to make it as easy as possible for them to provide their feedback. Whether you're selling clothing, offering plumbing services, or providing video conferencing solutions
, one thing is an absolute constant. That is namely that you need to know what your customers think of what you're doing. This requires you to take active steps to solicit customer feedback.
We've already talked about the importance of creating a community around your brand through group messaging channels. You can also use instant messaging to elicit responses from your customers about the standard of the service you provide. Of course, you don't want to be intrusive – customers don't like being badgered and so this can have real adverse effects. But, at the same time, you do need to know what people think. So there's a tricky balancing act to strike here.
Instant messaging allows you to obtain feedback in a number of different ways. For example, you could ask a consumer what they thought of a particular purchase or a service while in conversation with them via live chat. Alternatively, you can use IM apps to circulate surveys among your customer base. As we've mentioned, it's important not to bombard people with this kind of thing. But most people will respond positively when given the encouragement to provide feedback about their experiences of using your business and its services.
5. Stealing a March on Your Rivals
When you're running a business, it's essential that you take any reasonable opportunity you can to get a competitive advantage over your rivals. Rest assured, if they're remotely effective as businesspeople then they'll do the same thing to do. You don't want to be the one on the receiving end. So you need to think about how you can set yourselves apart from the competition. Perhaps a more effective inventory management system might help, but nothing is more effective than reaching out to customers.
If you're more attentive to the needs of your customers than your competitors, you could find yourself with the upper hand over them. But by contrast, if they do more to reach out to customers than you, you could be the one playing catch-up. An important point to bear in mind here is that customers love to feel that their favorite brands and businesses care what they think. They appreciate it when these businesses make the effort to be approachable, and offer a range of avenues for doing so.
Instant messaging is just one method among several which you can use to keep in touch with your customers. Of course, it's not a magic bullet and shouldn't be treated as such. It's only as effective as you make it – so how you use it will be what makes the difference between success and failure. Nevertheless, the opportunities it presents are potentially hugely rewarding. Any business which fails to see that, risks hindering its own prospects, with costly consequences.