15 Ways To Get Traffic To Your Shopify Shop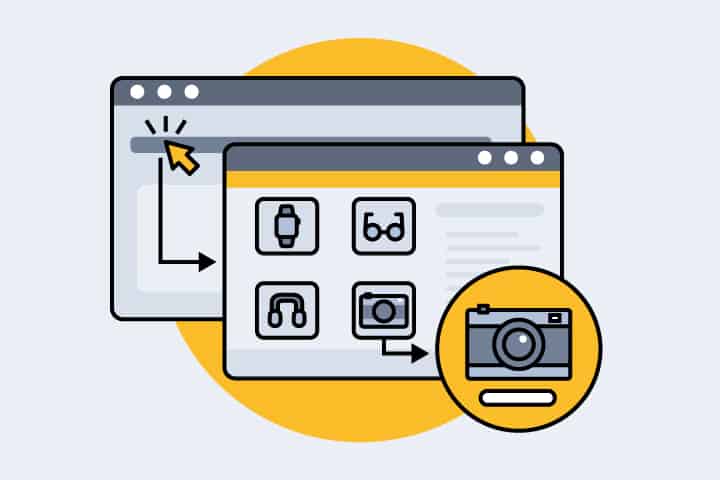 As a store owner, one of the hurdles you'll encounter after creating your store will be traffic. A few days or weeks of launching your store, you might feel like your store doesn't exist. Well, that is true until you begin marketing.
It's even depressing when you see substantial giant stores booming with traffic, while yours look like an empty wasteland.
There are many ways and tips to get traffic to your Shopify store, and this article will serve as a guide. When you implore the tips, you'll, no doubt, double sales, and traffic.
Without wasting more time, let's delve into how you can turn your store into a buzzing marketplace. Ready?
1. Referral Programs
Giant retailers like Amazon and AliExpress are doing it, and the output from such a strategy is enormous. A referral program is a route you should dabble in since over 81% of potential customers are more likely to act on a recommendation from friends or family.
But to make this possible, you will need to work with a reliable referral software. One of the best in the market is OSI Affiliate, and they are ready to guide you into driving a tsunami of traffic to your Shopify store.
The reason this affiliate program is the best is, no doubt, its simple interface, and numerous features. There are many referral software on the internet, and none came close when compared to the functionalities OSI Affiliate software offers. If you must drive traffic to your Shopify store, referral marketing is the way to go.
2. Go Mobile
In case you don't know, about 60% of online shoppers make purchases using their mobile devices. If you haven't made your store mobile responsive, you're losing traffic to your competitors.
To ensure that your Shopify store is mobile responsive or friendly, use the Google Mobile-Friendly Test Tool to see how it performs. You can find this tool through your Google Search Console, and the result will help you make impressive improvements.
Try as much as possible to ensure that you incorporate the best practice when designing your platform. The navigation panel has to be clear and strategically placed, so users don't struggle through their visit. 
3. Search Engine Optimization
Many webmasters or store owners often perceive SEO as a technical, rocket science endeavor. Thus, they try to run away, hoping to hit the gold by chance. If you want to drive immense traffic to your store, SEO is an aspect you should never overlook.
Traffic from search engines is often targeted, and visitors are more likely to make a purchase. That is why every website owner struggles to appear at the top result since that means higher CTR.
First, you need to discover your primary keywords and then optimize your product pages to those keywords. There are lots of tools that will help you in this regard, like SEMRush. With this incredible tool, you're able to conduct keyword research, spy on competitors, and discover your chances of ranking for a specific keyword.
According to experts, Keyword research is what determines if you'll succeed or not. Through this practice, you're able to uncover lucrative keywords that you can rank for, no matter how new your Shopify store is.
4. Social Media Marketing
Since the majority of your target market is on social media, so should you. Giant platforms like Facebook, Instagram, and Twitter are ideal places where you can promote your store and drive traffic.span style="font-weight: 400;">Aside from driving traffic to your platform, social media helps you connect more with your target market. With such a tool in your arsenal, getting feedback from customers and reaching more potential customers becomes possible.
Many big corporations are using these platforms to run ads, which you, too, can do and create awareness for your products and brand.
Facebook, for example, has over 2.37 billion monthly active users, imagine the potentials you can harness to take your business to a new height.
5. Influencer marketing
Influencers are unique individuals with thousands, if not millions of followers on their social media handle. With influencers, you can expose your products to your target market, who can take action.
However, you need to ensure that the influencer is in your niche. That way, the audience is more likely to interact with your platform and make orders. There is no need to drive traffic to your Shopify store if they don't convert to customers.
How they charge often varies depending on their follower base and credibility. Some influencers are ready to give you a shoutout for just a sample of your products.
Discover what works for you and stick to it. With consistency, you will be able to drive traffic and build a more significant customer base.
6. Guest Post
Another incredible strategy to driving tons of traffic to your store is through Guest Post. Using this strategy is like killing two birds with one stone. First, you get traffic from your guest site, and also a backlink. That's pretty cool, right?
Before you, guest post for a blog, ensure that the platform lies within your niche. Also, make sure its audience is your target, with a reasonable DA and PA.
When you do this well, you will be driving consistent traffic to your store while improving your SEO through the backlink generated.
7. Conduct Contest And Giveaways
Another fun strategy you can use to drive tons of traffic to your Shopify store is by giving out some goodies to your users. Everyone loves a freebie, which is why this technique of driving traffic never fails.
However, this trick can backfire when overused. Your potential customers don't always need to expect everything to be free, which is why applying moderation is paramount.
You don't need to always conduct giveaways for the sake of traffic. As thus, come up with a robust strategy that allows them to make purchases to qualify. Through that means, you can make some sales and give out some heartwarming gifts.
Some tools which you can use to organize this program include Gleam or Woobox. You can integrate these into your landing pages or blog posts. Don't also forget to add social sharing buttons, as it allows them to share with their network.
8. Content Marketing
There are lots of Shopify stores missing tremendous opportunities by not having a blog section. You should never make this mistake, as it can make or mar your success in the eCommerce world.
By creating exciting and engaging content, you're more likely to appear on a search engine. No doubt, most of the visitors are people who are most likely to make an order.
Your articles can come in the form in reviews, or about issues in the industry. It allows you to have a say and to establish your platform as an authority. Aside from articles, contents can come in the form of podcasts, eBooks, videos, etc.
If you want to make sure that your content performs very well on a search engine, there is always a need to conduct keyword research. One of the best tools you can use s Google Keyword Planner. It is free to use and doesn't have a complicated interface.
9. Integrate Social Sharing Buttons
When a visitor comes across great content on your Shopify store, there is this urge to share. If you don't have social sharing buttons below your content, that could be a missed opportunity.
Not everyone knows how to copy the URL, thereby making social share buttons a must-have in your store. There are lots of apps that you can use to integrate this essential tool in your store. A simple element like a social sharing buttons below your post can make a difference.
10. PPC Marketing
Another incredible way to drive a tsunami of traffic to your store is by running PPC marketing. A great platform to begin is AdWords, and it's often the number one place for lots of digital marketers. Rest assured that the traffic gotten from such a route is targeted since you'll optimize the ad copy with your main keywords. 
Established companies are running PPC marketing despite how big they are. If they can, that means you have no choice but to spare some bucks.
Aside from AdWords, there are a lot so PPC programs that you can utilize to drive traffic to your Shopify Store. Experiment with as many as possible, then stick to the one that drives the most result.
11. Create Urgency
By using The Fear of Missing out (FOMO), you're able to make your offer irresistible. The chances are, your visitors might plan to order later, which might not happen. By creating a sort of urgency, they are likely to make an order, even invite their friends over.
The approach you use depends. You can use "Act Now," "Buy now," or perhaps something like, "It's a limited offer."
There are numerous ways to go about this. The aim is to create an irresistible page. A proven technique you might want to try out is a countdown timer. Just like a time bomb, it compels people to make a decision fast.
12. Email Marketing
If you have an email address, that is proof that email marketing is very much alive. In that case, it can be a vital tool that you can use to drive traffic to your Shopify store. There are lots of email marketing software that you can use, and the most recommended tool is MailChimp or OptinMonster.
The first step after creating a store is to integrate an email widget or popup. A trick that ensures they comply is by offering an incentive they can't reject.
This incentive will serve as bait, often called a lead magnet. When you offer something that your target audience can't turn down, you increase your chances of getting their email address. Through email marketing, you can send promotional or campaign emails, even notify your target whenever there is a new post on the blog.
13. Build Trust And Credibility
If you want to build a consistent stream of traffic, the first thing you need to do is focus on building a credible brand. You do that by offering value and high-quality products. When you fail in that regard, you will be sabotaging the success of your Shopify store.
Do you know that about 19% of online shoppers abandoned their carts because they don't trust the online payment system? That is why you must display your security badges on your store, as it helps build trust.
Conduct research, and find out a security seals your target market trust the most. Use them, and you will never have to worry about your target market, not trusting you as a business.
14. Site Speed
The load time of your store is very crucial, and shouldn't be neglected. At this age, users' attention span is low; that is why speed is something you should take seriously.
Many tools will help run some speed checks to determine how fast and likely solutions. Through your Google Search Console dashboard, you will be able to run some speed check on your store.
15. Social Proof
Not only will this element get you a lifetime customer, but it also builds credibility and trust. About 92% of your customers find it easy to act on recommendations from friends and family. Amazon uses social proof, and the result is mind-boggling.
When potential customers stumble on these proofs, chances of browsing more content and making orders increase. If you haven't started using this element on your site, now is the time to integrate it.
Conclusion
There are numerous ways to drive traffic to your Shopify store. The most important tip is to remain consistent with whatever strategy you decide to use. That way, you will see results in the long run. Out of all these ways of getting traffic, discover ones that work the best, and improve. That is the only way you can become as successful as an online store owner.