How to Use the Facebook Pixel on Your Shopify Store
Now that you have added your Facebook pixel to your Shopify store, it is time to start tracking your traffic. You will be able to track how customers use your Shopify store and their conversions. To do this, you will use Facebook's three ways to track. They are
1- Custom Audiences
2- Standard Events
3- Custom Conversions
Custom Audiences
Custom audiences uses the Facebook pixel to track your store visitors who are on Facebook. The power of custom audiences is that you can customize your audience based on what pages people visit. For example, you can create an audience based on:
◉ Anyone who visits your website
◉ People who visit specific web pages
◉ People visiting specific web pages but not others
◉ People who haven't visited in a certain amount of time
◉ Or even a custom combination
For more information on this, check out Facebook's How to Customize Audiences from your Website.
How do I create Custom Audiences?
Step 1
Go to your Audiences tab in Ads Manager.

Step 2
Click Create a Custom Audience.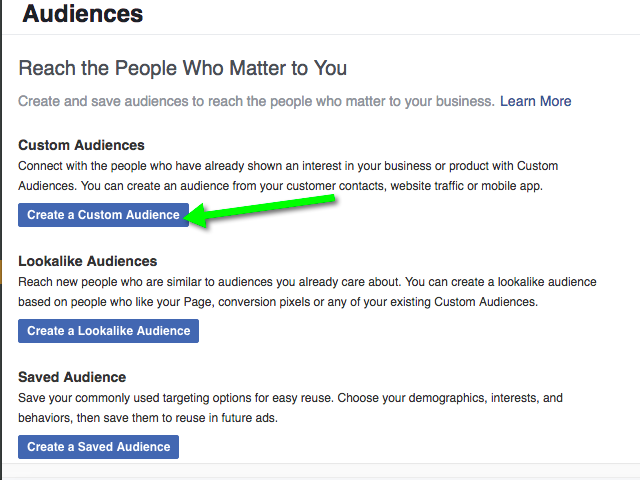 Step 3
Click Website Traffic.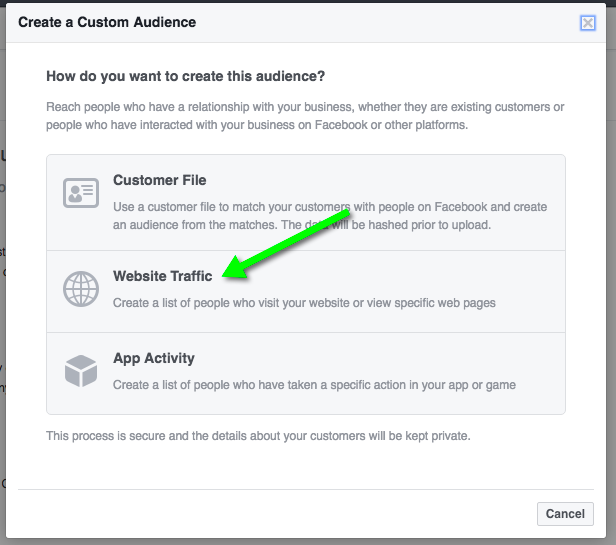 Step 4
Set your parameters, give your Custom Audience a name and click Create Audience.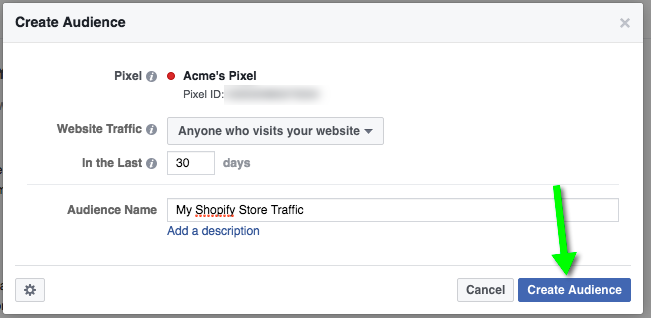 Standard Events
In your Facebook pixel, there's a section where you can code to track different actions people take on your store. This section is called the standard event section. You can see it below in the section numbered 3.
These types of actions you are tracking are called standard events. There's nine available standard events to choose from. You can see the nine events and their description below
You only need to add the standard events code on the page you are tracking.
Custom Conversions
To track specific actions people take on your Shopify store, use custom conversions. Custom conversions are great because you can use them with or without standard events. Especially, when you can't add standard events to your store. Lastly, you can also use custom conversions to optimize and track your Facebook ads.
Using custom conversions instead of standard events
The first way to use custom conversions is if you've added the Facebook base code without standard events. Just leave the code as is and create custom conversions using URL rules instead.
Step 1
Go to custom conversions in ads manager.
Step 2
Click Create Custom Conversions.

Step 3
Enter the URL or part of the URL of where you want to track this custom conversion.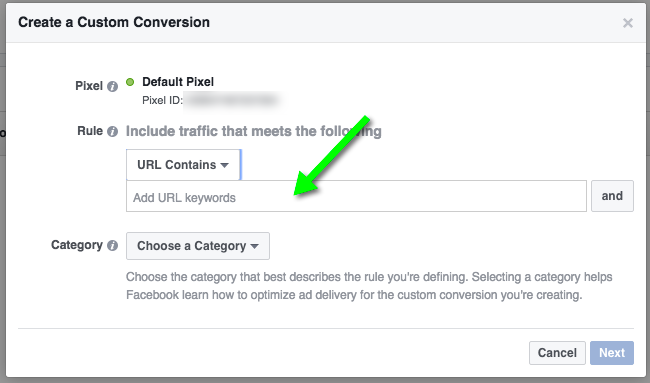 When you use URL Contains, just add part of the url. If you're using URL Equals, make sure you include the domain (ex: www) too. Including "http" or "https" is unnecessary. See below picture for example.
Step 4
Next, choose the category that best fits what you want to track.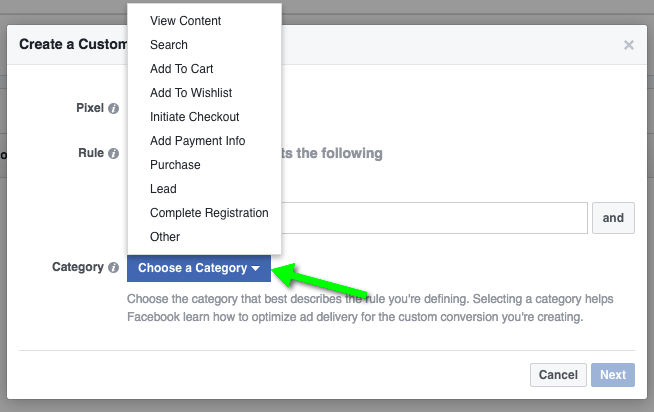 Step 5
Click Next.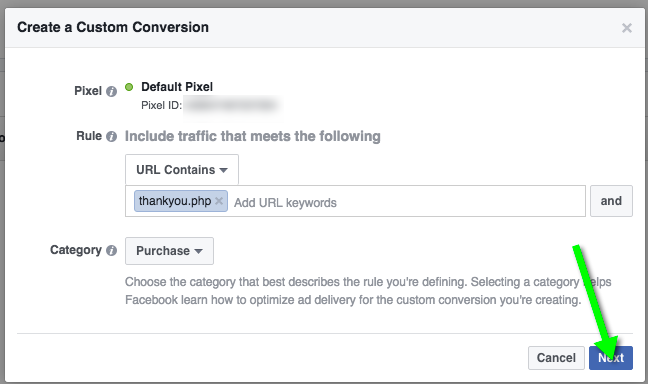 Step 6
On the next page, enter the name and description of your custom conversion.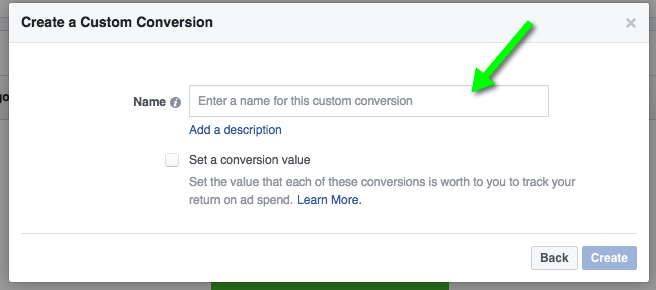 Step 7
If you want to track the value of the conversion enter it here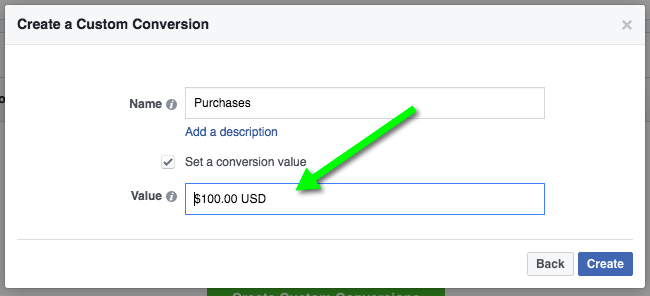 This allows you to track the value of the transaction. For example, if you are selling shoes on your store, you will enter the price of the shoe.
Step 8
Click Create. That's it :)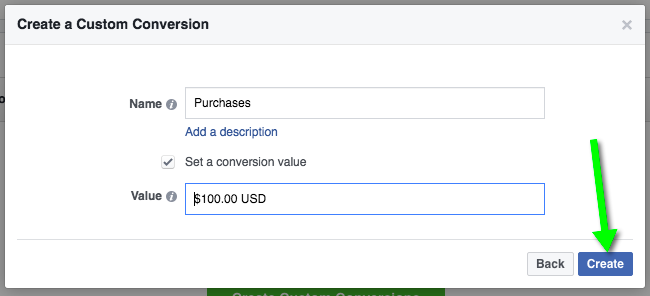 You have now created your custom conversion. You can choose this custom conversion when you create your ad.
Using custom conversions to split standard events
If you are using standard events and want more customization or tracking options, you can use custom events. For example, if you are selling shoes and you want to find out who views women's shoes, you can create a custom conversion for that.
Just follow all the steps above when creating the custom conversion, and when you get to this step
Select the rules you want to use for tracking. You can use URL rules and if they are not suitable you can use the EVENT rule.