How Affiliate Marketing Can Increase Your Ecommerce Sales in 2020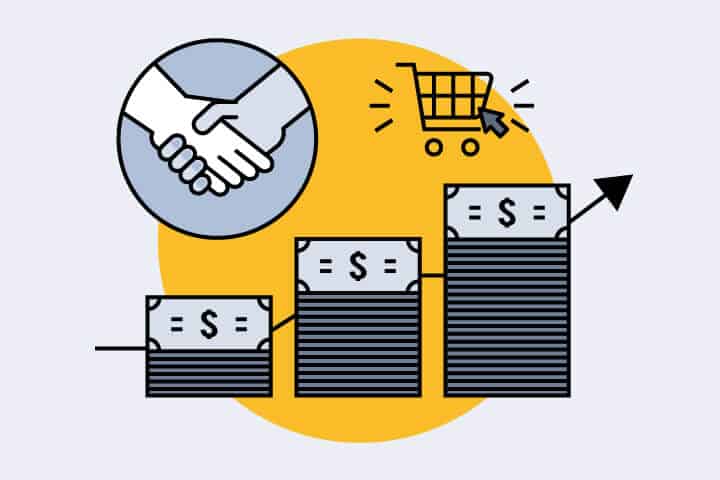 Are you planning to launch a new e-commerce business? Perhaps you're already the proud owner of a flourishing online store? Irrespective of the size and nature of your e-commerce business, you need a concrete strategy to drive conversions and boost revenue. This is all the more crucial considering the abundance of online stores available on the internet.

According to Statista, worldwide e-commerce sales represented 14% of the total global retail sales in 2019. This figure is expected to reach 16% in 2020. However, the growth of the global e-commerce market has also resulted in cut-throat competition among online stores. One of the most effective techniques of getting an edge over your competitors is to use affiliate marketing.
In this blog, we'll discuss a few ways in which you can leverage affiliate marketing to increase e-commerce sales. However, let's first understand what affiliate marketing is and delve into its benefits.
What Is Affiliate Marketing?
Affiliate marketing is the practice of getting your products promoted by one or more affiliates and rewarding them for every conversion. Also known as performance-based marketing, it's one of the most cost-effective digital marketing techniques.
The term "conversion" usually refers to a sale i.e. when someone buys your products. However, you can also set other conversion goals such as when a website visitor signs up for your newsletter.
Affiliate marketing is a great way of using an established authority's influence and reach to promote your products. It typically involves the following parties:
Merchant or advertiser – Also known as a seller or vendor, it's the creator and/or owner of the product. A merchant could be a renowned brand or a small business.


Affiliate or Publisher – It's the party responsible for promoting the merchant's products and driving conversions. An affiliate could be an industry authority, a blogger, content creator, and even an influencer. They use their website/blog/YouTube channel/social media profiles to connect with their audience and encourage them to check out a product. An affiliate earns a commission for every conversion they drive.
Consumer or Audience – It refers to the person who purchases the merchant's product or completes a desired action on their website. It's crucial to identify affiliate partners who have a loyal and engaged audience.
Before moving further, let's take a quick look at how affiliate marketing works:
As a merchant, your first step is to develop a sellable product. It's recommended that you test and validate the product idea before launching it.


The next step is to create an affiliate marketing program that outlines lucid guidelines including marketing goals and affiliate commission.


Thereafter, you should start identifying relevant affiliate marketers in your niche. The simplest way of doing this is to run a quick Google search using terms and phrases related to your product. Take a look at the most popular blogs, YouTube channels, etc. that show up in the search results. Alternatively, you can join an affiliate network to connect with relevant affiliate partners.


Once you've shortlisted your affiliate partners, it's time to approach them for a collaboration. A simple way of doing this is to send them a welcome email outlining your affiliate program. You can also send them free gifts or samples of your product.


Alternatively, you could create a dedicated web page that showcases your affiliate program. This lets affiliate marketers and digital content creators directly contact you for a possible collaboration.


Once you've selected an affiliate partner, you assign a unique affiliate ID and affiliate link to them. Some merchants also provide unique affiliate codes to affiliates.


The affiliate promotes your product and the affiliate link through various channels. The idea is to encourage their audience to click on the affiliate link and visit your website.


When such a user visits your website, a cookie is created and stored on their browsing device. The cookie contains the affiliate ID. It's used to attribute a conversion to the corresponding affiliate, even if it happens days after the user clicked on the affiliate link.


When the user makes a purchase or signs up for a newsletter, you have to check the associated cookie for an affiliate ID. If you find an affiliate ID, you have to reward the corresponding affiliate partner with a suitable commission.
For instance, FabFitFun, a Los Angeles-based beauty subscription service, collaborates with social media influencers to increase sales. The company also assigns unique affiliate codes to each influencer. Take a look at the screenshot below:
Now that we have a fair understanding of the concept, let's see how e-commerce businesses can benefit from affiliate marketing.
Why Your E-commerce Business Needs Affiliate Marketing
Affiliate marketing offers a plethora of benefits over other methods of digital marketing. When executed correctly, it helps build brand awareness and skyrockets your sales. Here are a few of its advantages:
High ROI
The biggest benefit of using affiliate marketing is that it offers an extremely high return on investment (ROI). This is because you don't have to pay an upfront marketing fee to your affiliate partners. You only have to pay a commission when they drive a conversion. The commission is usually a percentage of your profit margin.
Thus, you don't have to pay anything out of your pocket to get started with affiliate marketing. The initial investment is negligible compared to other marketing techniques. It's a risk-free and win-win situation for both parties.
It's particularly crucial for small businesses that don't have sky-high marketing budgets, to begin with. Even if you're able to squeeze out some funds, you can use it for other channels such as search engine optimization, pay-per-click advertising, etc.
Increased Reach
Affiliate marketing eliminates the need to build your audience and establish your authority. That task has already been handled by your affiliate partners. Most affiliate marketers have a loyal and engaged audience that perceives them as a trusted industry expert. When you partner with the right affiliates, it boosts your product's online visibility and helps you attract new customers.
Moreover, it helps you cut through the clutter of mediocre content and products floating around on the internet. Collaborating with relevant affiliates ensures that your product reaches the right audience and immediately grabs their attention. This is especially helpful when you want to launch a new product or break into new markets.
All you need to do is find the right affiliates who can garner traction for your product. It lifts the burden of promotion off your shoulder. You can, instead, focus on developing more cutting-edge products.
Enhanced Trust, Loyalty & Credibility
According to a recent survey, 62% of consumers make a purchase only after watching product review videos. They will only consider purchasing your product if a reliable authority reviews or recommends it. This is where affiliate marketing steps into the picture.
Affiliate marketers share a strong rapport with their audience and are often regarded as authority figures in their niche. When they recommend your product, it acts as a vote of confidence. It strengthens your brand's reputation and credibility and helps you win the trust of their audience.
This, in turn, increases the likelihood of conversions and helps you get more new customers. Moreover, most affiliates boast a fiercely loyal and devoted audience. They often swear by the affiliates' recommendations. When such an affiliate consistently promotes your product, you can build an army of loyal brand advocates.
Immediate Results
If you work with relevant and popular affiliates in your niche, you will likely see a surge in sales within the first few days. This is because affiliate marketers have already done the groundwork of building an engaged audience. You just have to give them some time to create high-quality content featuring your product.
Diversified Sales Team
When you're launching a new business, you may not be able to afford a dedicated sales team. Affiliate marketing lets you delegate the responsibility of driving conversions and increasing sales. It's more cost-effective than hiring sales representatives. Additionally, it connects you with a vast and more diverse network of potential customers.
E-commerce Affiliate Marketing: A Closer Look
Despite its lucrative benefits, affiliate marketing won't yield any significant outcomes unless you implement it the right way. From selecting the right affiliates and tracking their performance to offering suitable commissions to optimizing your website – affiliate marketing involves various steps.
Here are a few tips on how you can effectively use affiliate marketing to boost sales:
Identify the Right Affiliates
The choice of affiliate partners dictates the fate of your affiliate program. It's essential to select affiliates who have a massive reach and are relevant in your niche. This helps ensure that your product hits the right chord with the affiliate's audience.
A simple way of identifying suitable affiliates is to run a Google search using keywords related to your product. Let's say you want to sell vegan meat replacements. A quick Google search for "vegan food blogger" reveals some valuable listings:
Once you find a relevant affiliate, take a closer look at their website, blog, and social media profiles. Focus on their website's domain authority (DA) score, the quality of their content, and the engagement rates. It's also crucial to find out if they have been promoting similar products. Likewise, you can search for popular social media influencers in your niche.
It's also a good idea to check out the affiliate partners your competitors are collaborating with. If a content creator is already promoting similar products, their audience will likely fit into your target group.
Monitor Affiliate Performance
Monitoring sales and tracking affiliate IDs is a critical part of affiliate marketing. In the absence of proper surveillance, you won't know whether an affiliate's promotion strategy is working. It's crucial to identify and filter non-performing affiliate partners. This, in turn, helps refine your affiliate program and make it more effective.
Offer Competitive Commission
Most affiliates simultaneously work with various brands and businesses. Some of these brands could be your competitors. If your commission rates don't match that of your competitors', the affiliate may not promote your product. Even if they collaborate with you, they might give more visibility to the product with a higher commission.
The commission is a fraction of your profit margin and can range between 5% and 30% of the product cost. However, commission rates vary depending on your product, industry, and conversion goals. It's also recommended that you keep the commission flexible according to the reach and expertise of the affiliate.
Join an Affiliate Network
An affiliate network is an online marketplace that connects merchants and affiliates from all over the world. It eliminates the need to find and connect with various publishers. Instead, you can just join the platform and upload the details of your affiliate program.
Thereafter, relevant affiliate partners approach you with their details. You can investigate their profiles and select the most suitable ones. Most affiliate networks also let you track sales and affiliate performance.
Identify High AOV Products
Not all your products are worth promoting through affiliate marketing. Some products may be associated with a higher average order value(AOV) than others. To make the most of your affiliate program, it's crucial to focus your efforts on high AOV products. Identify these products and ask your affiliate partners to promote them more vigorously.
It's also essential to leverage seasonal holidays and festivals. Announce new offers and lucrative discounts when a major holiday is lurking around the corner. Make sure your affiliate partners have complete knowledge of your seasonal promotions calendar. Optimize Your Online Store
An affiliate can only promote your product and encourage their audience to visit your online store. The final conversion depends on the layout, navigation, and overall experience of your \ ecommerce website/app. It's essential to make your online store easily navigable and ensure a hassle-free checkout. You should also consider allowing guest checkout to increase sales.
It's equally important to ensure that your website loads fast. Moreover, you should optimize your website for mobile devices. This is particularly crucial considering that 50% of online shoppers in the US use mobile devices. Make sure your website is mobile-responsive and loads equally fast on different browsers and devices.
Conclusion
The goal of every e-commerce business is to attract paying customers and earn more revenue. Affiliate marketing is a cost-effective, low-risk, and quicker alternative to other digital marketing techniques. It helps you grab the attention of an audience that would've remained inaccessible otherwise. It's also a great way to build trust and loyalty.
It's, however, crucial to outline a concrete affiliate program and collaborate with the right affiliates. Make sure your commission rates are at par with those of your competitors. It's also recommended that you focus on high AOV products and make your website mobile-responsive. Lastly, you can leverage an affiliate network to connect with more affiliates and increase your revenue.
Have you ever used affiliate marketing for your e-commerce business? Share your views in the comments section below.