Influencer Marketing – What's in it for B2B Businesses?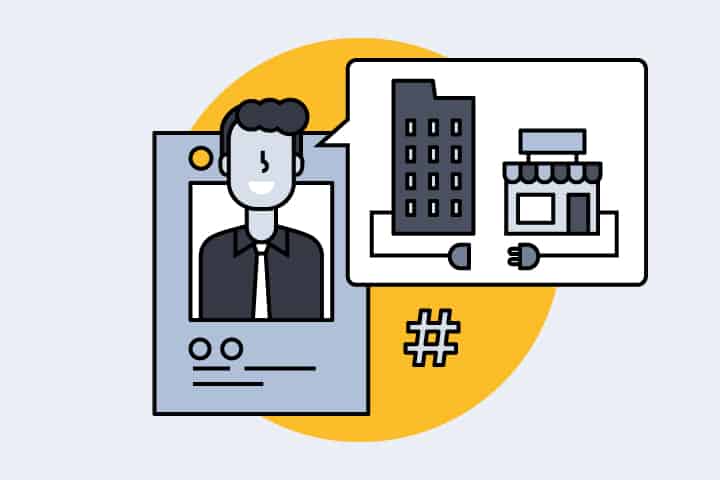 What is B2B influencer marketing?
The concept of "influencer marketing" usually brings famous fitness or fashion influencers in mind. This is quite expected considering heavy B2C presence on popular social media platforms like Instagram. But whether it's a physical product, solution or a service, getting B2B influencers to advocate your business can significantly nurture your prospects' interests and increase their tendency to buy it.
Customers will always want to buy the product or the experience that is socially proven and accepted by other users. This encourages B2B business to work their way through influencer marketing to gain prominence. As expected B2B businesses do not have as much luck as the B2C specific areas like beauty, food, games or clothing, however the impact of word of mouth communication for B2Bs is too powerful to overlook.
According to research conducted by Smart Insights, B2B businesses often prefer campaign-based influencer marketing efforts rather than integrated 'always' on programmes. The reason behind is that it is easier to manage campaign-based influencer marketing activities to generate awareness for B2Bs.
Does B2B influencer marketing campaigns really work?
B2B influencer marketing campaigns have a lot of potential to bridge a gap between your potential customers and your business.
According to SocialB 91% of B2B purchase decisions are influenced by word of mouth.
Research showed that B2B customers find expert opinions quite persuasive while making a purchase. In fact they are the second most important factor in customer's decision making process.
Another research proves that 49% of consumers depend on influencer recommendations. and
91% of B2B purchases are at least somewhat influenced by word of mouth.
B2B Influencer marketing on Instagram
B2B companies have gradually begun to notice the potential of working with Instagram influencers. In fact research proves that there is a huge opportunity for any type of business regardless of the essence, as 93% of overall influencer marketing is happening on Instagram.
When we think about Instagram, the first thing that comes to mind is this platform is full of stylish lives, travels, beautiful shots and videos. But in fact, Instagram allows an organization of any size to make a business profile, get detailed data about their followers and posts, and promote their content in order to achieve their goals. Today having a strong presence on Instagram and empowering it with influencer campaigns help any business to stand out in the crowd. Instagram's advanced advertising models and popularity also shows us any type of customer base that you wish to reach is on Instagram already. With more than 1 billion monthly users as of June 2018, Instagram has become a place that cannot be ignored for B2B companies. That's why we wanted to give you a few tips to find Influencers on Instagram.
Who is B2B İnfluencer in instagram ?
Influencers are recognized and trusted personas in a specific niche. These individuals have a follower base that has a potential to be closely interested in your niche. Partnering up with them is a great way to bring in high-quality leads to your own product. Influencers are open to new collaborations and are focused on running the partnership in the simplest way possible.
So, How do we find B2B influencers on Instagram?
B2B marketing works in a very similar way to B2C marketing. The only difference is with B2B marketing you have a different target audience. When it comes to finding B2B influencers, your number one focus should be analyzing your potential clients and acting on it.
The easiest way to find influencers on Instagram is searching for hashtags and using the Instagram Discover section. This may sound obvious but Instagram's algorithm is advanced enough to provide valuable information specific to your audience.
Write down the most popular hashtags related to your brand or scroll through the list of people suggested by the app. After a careful examination, note the ones that seem the most logical, to review them in more detail. In addition, Anyone using #ad or #collab in their hashtags is professionally involved.
Check out an Instagram Influencer platform
Finding an Instagram Influencer by searching on Instagram can sometimes take a lot of time. Also, not every person you find will want to work with you. In such cases finding the right person can take days, sometimes even months.
Another way to find Instagram influencers is by browsing an Influencer finder network. Influencer marketing networks and software usually allow you to use a range of software features for free for a certain period of time in their free versions.
When you use an Instagram Influencer network you can find influencers potentially looking to work with your brand very easily.
Evaluate Instagram Influencers
Some of the influencers grow by buying followers or interacting with fake accounts, which will hurt you in any collaboration with that influencer. You can not reach your audience and create false impressions, so you can get help from sites that can test the followers of a potential influencer candidate and get an idea of how they grow.
Find true person for your brand
Communicate with more influencers than you think you will need for a marketing campaign, and you will always be more likely to get a response from someone who will be a good match for your brand. After finding your potential influencer candidates from the hashtags or platform, the most important part is to decide which one has the most potential for your brand. In fact, this depends on choosing the most suitable person who will best promote your brand, culture and products.
An ideal approach to evaluate potential influencers and decide if they are the right person to promote your business would be writing down your questions that you wish to address them. In order to make the process easier for you, you can combine these questions into an online questionnaire like JotForm and evaluate the candidates based on your main criterion.
Each type of influencer appeals to a different customer base. Whatever your brand needs, you should consider it at the selection stage. It tends to be valuable to make a buyer persona, to get a balanced thought of who will have the most influence over the individuals you're attempting to reach. Below are small descriptions of influencer types.
1. Brandividual
Brandividuals are recognizable experts in the field with extensive network size who will extend your network reach.
2. Up-and-Comer
An individual who resonates well with their audience and is someone very motivated to engage and share.
3. Niche Expert
A unique expert who can provide deep expertise on very specific topics. This kind of thought leaders also provide hyper-relevant content for your audience
4. Internal Expert
An internal expert or leader within your company, this individual can help build brand recognition and thought leadership.
5. Customer
An existing customer who fits ideal customer profiles who can help prospects see themselves in the content-and your brand
Once you find your influencer, contact them professionally
Your first message to the influencer you choose should be both reliable and professional. Give Instagram influencers as much information as possible about your brand. State your proposal and opinion clearly. If you have a limited budget, you can clarify this at the first message. If you reach influencers through someone close to the influencer, you will most likely have a much better response rate. Your best option to find Instagram influencers for free is to build a large network.
Have you found a profile that can well present your company's product and way of working? Make sure you share all the details and your thoughts before you agree.
When you're prepared to grow the relationship beyond a trend piece, it is basic that you simply spend time genuinely teaching the people in your B2B influencer marketing program almost your company, items, clients, competitors, and culture. After introducing your product, your company and your culture, decide together by brainstorming what path you will follow and how you will interact with key customers. Pay particular attention to the ideas of the influencer, as a result, you will reach the people that he can reach until now.
Successful examples of B2B Influencer Marketing
As a technology brand, finding an influencer that can impress potential clients is not easy for IMB. The essential hidden rule here is that your workers are the ones who realize your items best. Not just have they made a portion of those items, but at the same time are liable for selling them. Thus you can undoubtedly use them to impact your expected customer.
Cisco calls their community of IT advocates as "Cisco Champions" and have created a marketing program around them. They utilize different motivations to induce these champions to share their information and mastery on Cisco's items on social media. The B2B influencer promoting program also permits these advocates to improve their abilities and information by interfacing with other experts. Cisco too gives them elite occasion solicitations, get to their items and acknowledgment as incentives. They kickstarted the discussion with #CiscoChat on Twitter.
The Difference Between Influencer and Affiliate Marketing
Influencer and affiliate marketing are both very powerful and have a huge potential to turn your target audience into your customers. These terms tend to be used interchangeably and confuse B2Bs that are just beginning to explore different methods of marketing channels. In order not to miss out on any opportunities, understanding the main differences will help your brand to grow steadily while alternating between convenient strategies.
Affiliate marketing is a significant online revenue generation method based on increasing sales. It focuses on lead generation by using links to bring audiences directly to the brand's site while influencer marketing focuses more on brand exposure.
While it is easy to track sales made by an affiliate partner by using affiliate marketing tools, seeing results in influencer marketing is a little tackier.
In most cases influencers also become affiliate partners and they will receive a percentage from the sales they bring. This ensures the continuity of the partnership and helps push the influencer to put in more effort to bring more leads to your website.
Wrapping it Up
When it comes to B2B influencer marketing on Instagram, the potential is undeniably huge. As Instagram becomes an important platform for reaching younger business professionals and decision-makers, targeting the right audience will help your business grow by increasing the chances of engaging with your audience and winning new customers.