//=get_the_date()?>
Best Boutique Affiliate Programs in 2023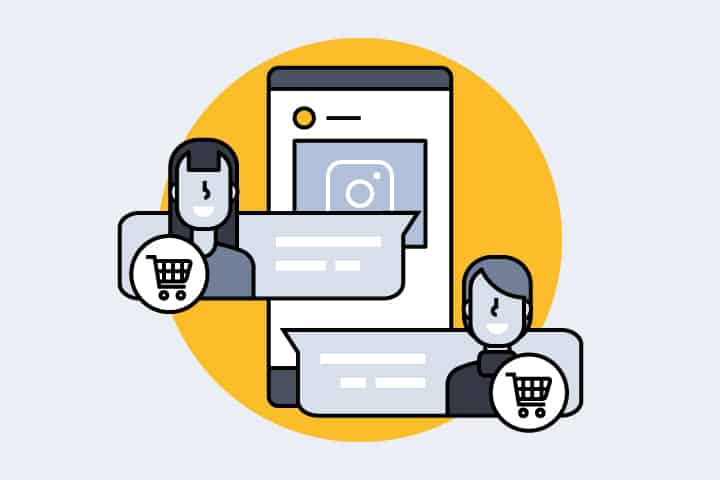 People have always been looking for ways to make money. And in today's digital age, there are more and more opportunities than ever before. One of the most popular methods is affiliate marketing programs, which allow you to earn a commission on sales that you generate for other companies. 
There are hundreds of these programs available, but not all offer the same benefits or ability to make a significant income.  This post will go over some of the best boutique affiliate programs available so that you can find one that suits your needs and goals.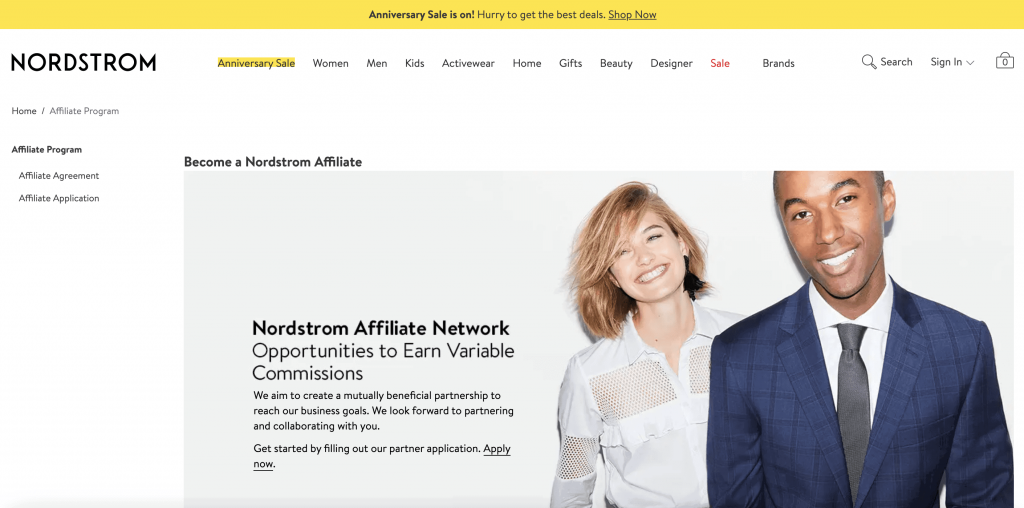 Nordstrom allows you to participate in their affiliate program through Rakuten Marketing's control. For Nordstrom to approve your account, they will need a minimum of 50 USD from you per month and are pretty selective about who is approved as an affiliate partner; however, if the amount that you expect to earn exceeds this threshold, then increase it accordingly.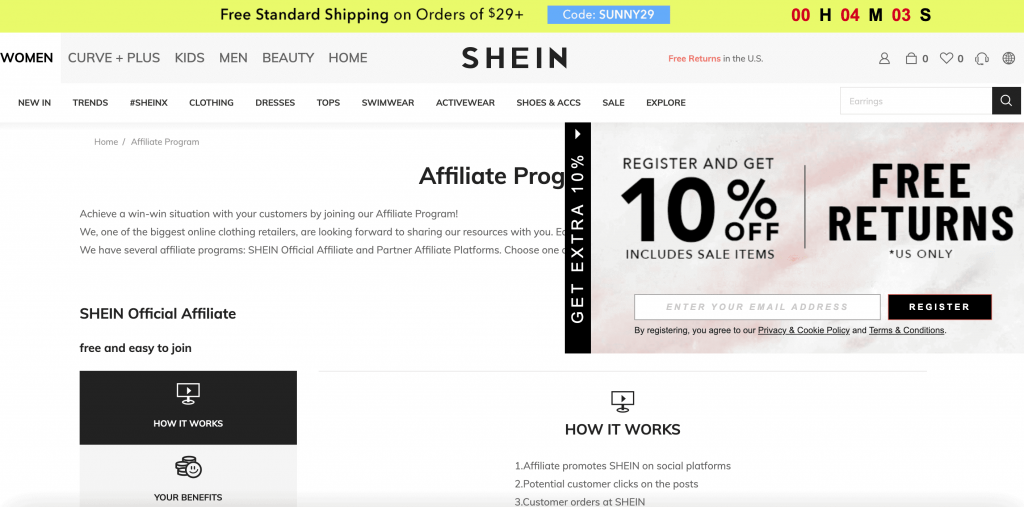 You can't have fashion without SHEIN. That's why they made it super easy to join their affiliate program. All you need is a computer and an email account! After creating your profile on the website in their Affiliates section (they'll make sure of that!), fill out some basic info like how often you want emails from them, what country/region do you live in, etc., then wait for approval within 24-48 hours. It's as simple as 1-2-3!
You don't need any experience or knowledge about web design because, at SHEIN, anyone with access to a PC and internet connection has everything needed to start promoting this excellent company immediately. All one needs does register on the site by signing.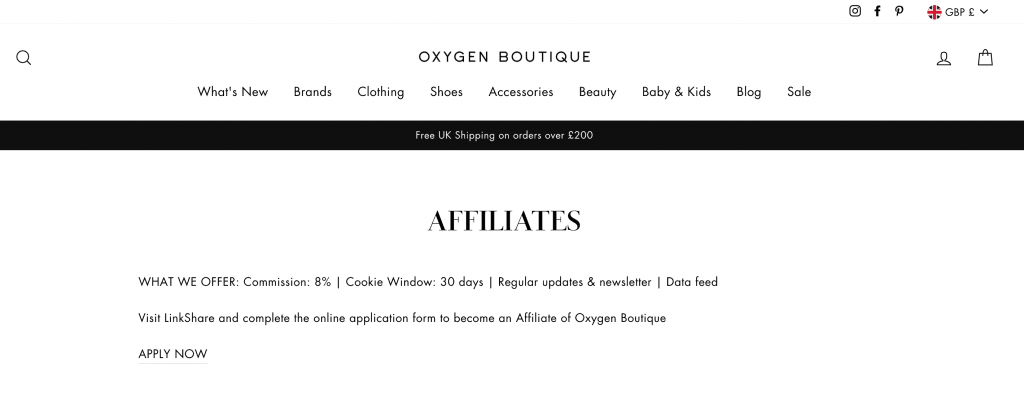 Oxygen Boutique is a boutique in Vancouver, British Columbia, Canada. Oxygen Boutique on Robson Street offers an exclusive shopping experience for anyone seeking to buy clothes while promoting sustainable fashion. If you're looking for more than just some jeans or a dress and want something that will last the long haul while still displaying excellent style, then this destination is one you'll highly appreciate.
Enjoy the perks of being an affiliate for Oxygen Boutique! A commission as low as 8% and a cookie window at 30 days are just some of what they offer. They also provide regular updates, newsletters, data feeds to help you keep track of the latest developments in this ever-changing industry. Apply online today – it's easy!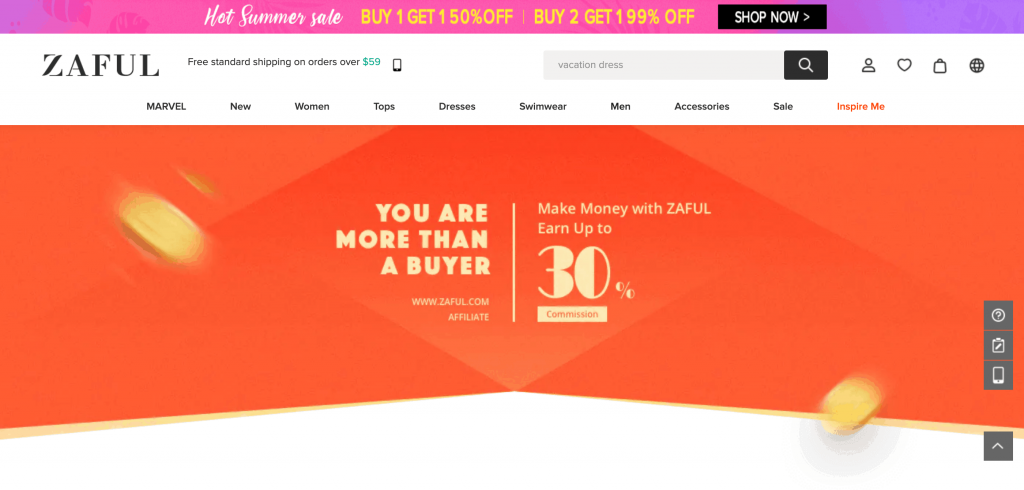 Zaful.com is an e-commerce website that offers over 500,000 fashion items from designers worldwide to customers across 180 countries at low prices! Zaful's marketplace has been growing fast since ZAFUL was established in 2014 and ranked 34th in Brandz China Top 50 2017. In 2016 sales increased by 300%, increasing 310% again through September of this year (2017). With a wide variety of products ranging from clothing, shoes & accessories, it's no wonder why consumers choose Zaful as their go-to for finding great deals on affordable apparel online!
The Zaful Affiliate Program is a great way to make money in your spare time. Earn by promoting products, creating any promotion link, and displaying them on your website. You can earn up to 30% commission! Earn by easy sharing – share their product links with social media channels like Facebook or Twitter (up to 10%). Then, they'll pay out commissions starting at $10 per order-even if it's just one item sold from multiple orders of varying items that customers ordered together). Or refer friends directly using an affiliate link which pays off when they buy anything–from T-shirts, swimsuits & hoodies all year round. You can even get paid as much as 60%.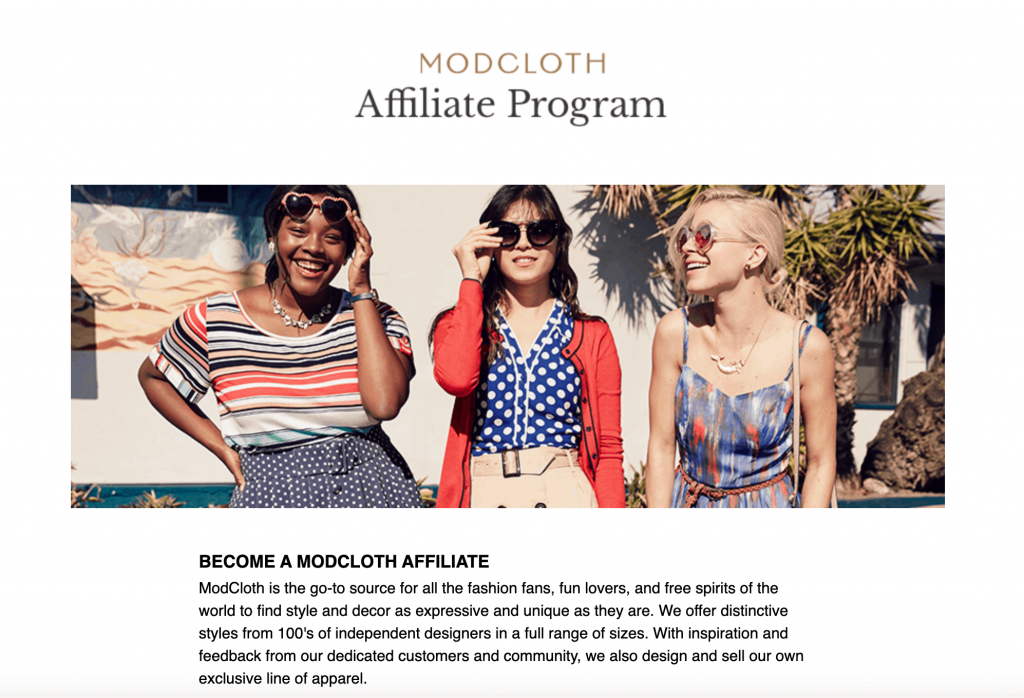 ModCloth is one of the most inspiring retailers out there. The company specializes in designs from independent designers and offers a full range of sizes on its exclusive line. In addition to quality products, Modcloth also provides an online community for customers that they can use to share their looks with other members who are just like them!
ModCloth's affiliate program is one of the most popular in all of retail. With a variety that includes women, men, and children attire as well as household items for your home or office, Modcloth has become an online shopping destination with over 30% annual growth rates! Their wide selection appeals to fashionistas on any budget because you can get something new without breaking the bank. 
You're sure to love their amazing deals, too – they offer shoppers 10-35% off every day plus coupons from time to time to make it even easier (and more fun) than ever before! Join now by clicking "become a partner" above. As soon as you sign up, start earning commission right away – both via customer purchases.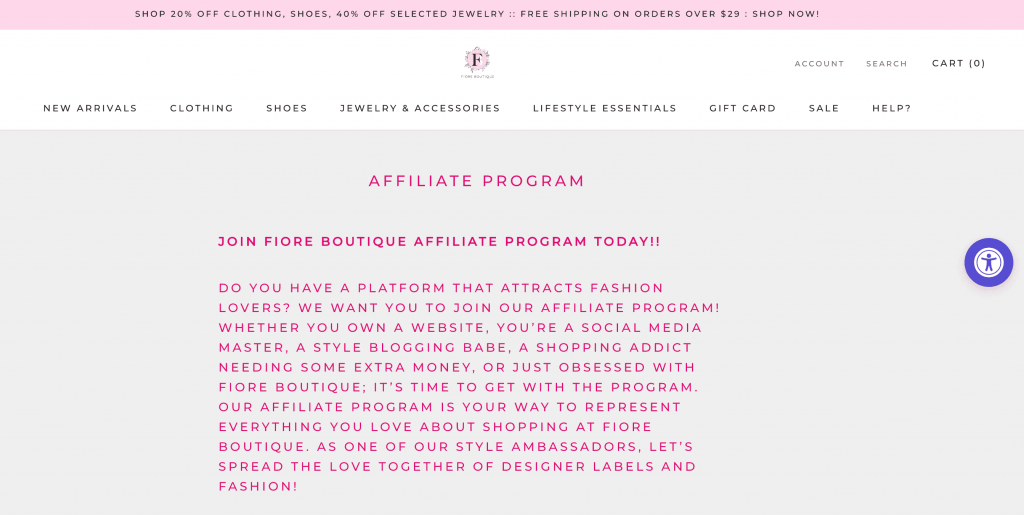 Fiore Boutique is currently accepting applications for an affiliate program. You can link your site or blog to their website and earn commissions by simply enhancing it with the latest fashion from experienced team members, such as 10% commission on clothes and 20% commission on jewelry! 
A 30-day cookie applies to each customer you refer who purchases within thirty days of clicking through one of their links (you will receive credit). Qualified applicants are provided images/banners via their web page. 
Do not forget that FioreBoutique also offers affiliates access to high-quality items at discounted prices like handbags priced between $50-$250; LED light-up jewelry for around $6-$12 each; pearl bracelets.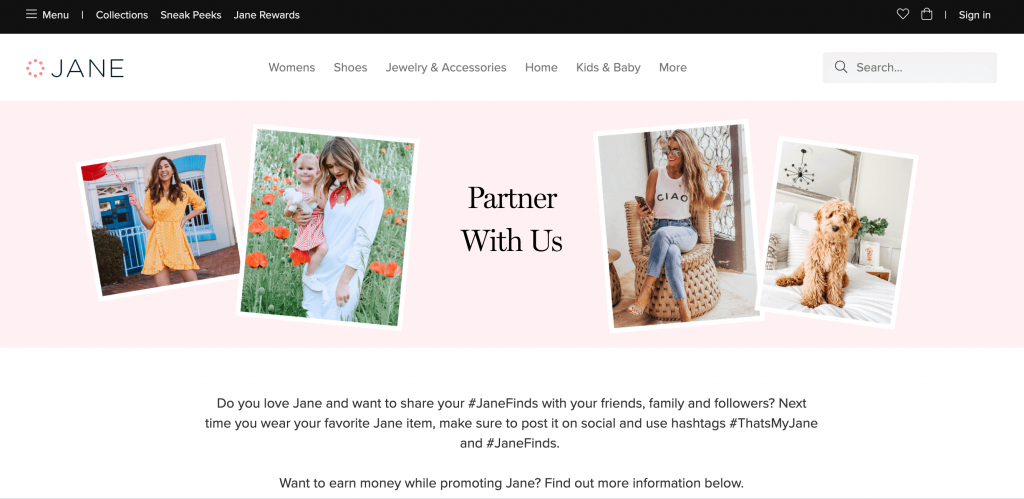 Become a Jane affiliate! This is an exciting opportunity for bloggers and content creators. As long as you have social media following, blog, or website, big and small audiences are always welcome! They will provide all the tools needed to succeed in your creative endeavors with this program.
The top boutique affiliate programs offer the most competitive compensation plans, robust marketing resources, and a dedicated support team. However, it is not always easy to find these types of perks without spending hours on research. That's why we compiled this list so you can get started right away! Please take a look at our recommendations above for your consideration. If any sound like they might work well with your business model or target audience, give them a try today!