//=get_the_date()?>
Best Ecommerce Influencers To Follow In 2023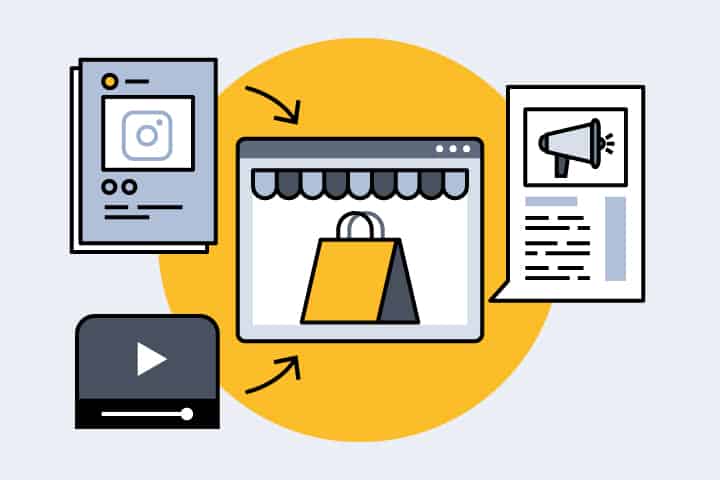 The digital age has brought with it a plethora of advancements in the internet space. And although this "age of information" has seen a lot of changes, especially in the last decade or so, there's one thing that seems like it's here to stay – A new class of celebrities otherwise known as 'social media influencers'. 
Everybody either wants to be them or beat them, but, ultimately, a majority of the global population wants to follow them, be entertained by them, and want to know what kind of lives they lead. 
You might be wondering how influencers are able to juggle between hosting podcasts, creating YouTube videos, IGTV clips, webinars, and so forth. Enter a host of online tools such as InVideo, Canva, and Sprout Social that allows these influencers to create and edit videos, make amazing posters, and get a complete analysis of how their audience is reacting and engaging with them all within a few clicks. 
A point to be noted, though, is that every social media platform caters to a certain kind of celebrity coming from a variety of niches and backgrounds. As such, we're going to be looking at influencers who have a significant hold over the global populace.
Cristiano Ronaldo – Instagram 
It seems like there's never a dearth of passionate fans when it comes to the beautiful game. In that vein, this list wouldn't be complete without Cristiano Ronaldo being added to the mix
As of February 2021, the footballer who is often referred to as the GOAT (Greatest of All-Time), depending on who you're asking, of course, has 266 million people following him on his Instagram page. 
The football star, whom we also know as Cristiano Ronaldo or CR7, uses the platform to post about his ever-increasing list of achievements, awards, family life, and things that go on in the field. He is also in the habit of posting content in collaboration with sponsors and various companies for the sake of endorsement, often leading to enormous reach and value to brands in the market. 
PewDiePie – YouTube
Anyone who's been on YouTube long enough would immediately know of this social media/gaming influencer, Felix Arvid Ulf Kjellberg, a.k.a., PewDiePie. The young Swedish vlogger has been in the YouTube scene for about a decade now – almost to the point of becoming a cult personality, especially in the last few years. 
Since the beginning of 2021, his subscriber count on YouTube has reached a massive 109 million subscriptions. In fact, his channel is second-highest in the ranking (in terms of subscriptions as well as views) when compared to T-Series (an Indian record label and film production company with 174 million subscribers). 
His channel first caught the attention of gaming enthusiasts because of how entertaining his commentary would be. His audience widened as he gradually moved to make content on trending news, popular memes, and the like. As a result, an array of brands are always vying for endorsements on his videos and we can't really blame them. 
Jay Shetty – Facebook
From hosting a digital morning show (with over 100 million views) for the Huffington Post to enjoy up to seven years of being featured in Forbes' 30 under 30 Europe list (as a 'game-changer and influencer in the world of media), Jay Shetty has more or less taken the social media space by storm. 
His official Facebook page has over 28 million followers, with each of his videos raking in millions of views and, in some cases, even hundreds of millions. 
As a public figure, Jay Shetty identifies himself as a purpose coach. He also hosts a podcast and is the author of a bestselling novel to boot. The public at large find his content motivational, inspirational, relevant, and relatable, and that's largely why he's considered to be a digital media influencer. 
Elon Musk – Twitter
Although there are more than enough celebrities who top the Twitter list (in terms of their follower count), there isn't much they are able to do with regard to their influence over the global populace. But the same cannot be said of Elon Musk. 
With over 48.1 million followers, most of whom are waiting for his next tweet with bated breath, you've probably figured that the man may well be able to move mountains. 
In the last year alone, the CEO of Tesla was able to create such stir so as to bring the financial market to its knees. Recent events influenced investors to join the Bitcoin wagon making the cryptocurrency's value jump more than 20%, all because the business magnate updated his Twitter bio with '#Bitcoin'. Most recently, one of his tweets led another cryptocurrency known as Dogecoin to jump by 25% in value. 
Neil Patel – LinkedIn 
Boasting close to half a million followers on LinkedIn, Neil Patel is well-recognized for his influence over the social space (according to Wall Street). His impact extends to YouTube (31 million views) and Facebook as well. 
The New York Times bestselling author is listed as one of the top 10 marketers' according to Forbes. He is also well-known for his entrepreneurial ventures if the word of Entrepreneurial Magazine, President Barack Obama, and the United Nations is anything to go by. 
Fortune-500 companies, business conglomerates, and popular brands all approach the marketing genius for their advertorial ventures. Add to all this the millions of visitors (averaging up to 4 million views) he receives on his marketing blog on a monthly basis. 
Wrapping Up
Although it's not something immediately discernible, as a novice influencer or even as a marketer, one can conclude that there's a ton of work that goes into the creating, curating, and building of a social media page, website, podcast, or YouTube channel. It takes hard work, effort, persistence, and the will to make it big. 
You also have to consider that working smart pays as well. As such, studying the market, understanding your audience, and building your brand around being relevant, being able to stand out from the crowd while also creating value goes a long way.