//=get_the_date()?>
15 Best Email Finder Tools That Will Make Prospecting Easy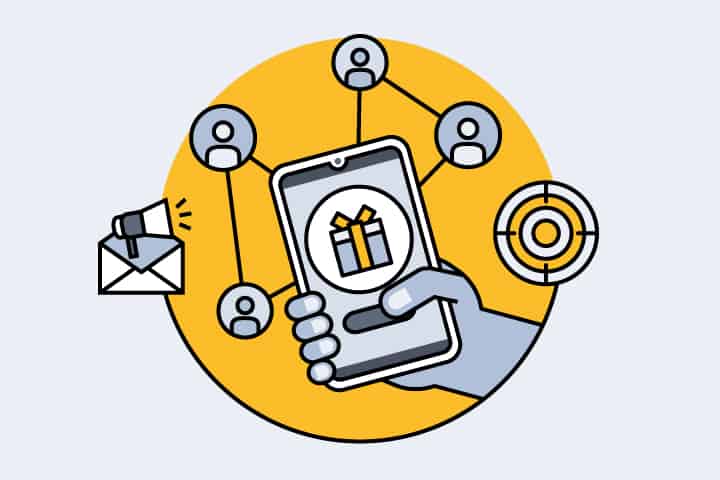 15 Best Email Finder Tools That Will Make Prospecting Easy
Using these best email finder tools, I've harvested 303 leads.
And guess what?
It helped me get clients for my new business in the first week after launch.

Being a business owner, it's important to put hustle in the right place.
So instead of manually searching each email yourself, use these email finder tools and save a big chunk of time and advertising cost.
Voila Norbert is on top of this list. After all, it's one of the most popular choices among salespeople because it finds emails accurately and easily.
With features like individual or bulk search, Norbert can look out for email addresses with just individual or company names.
For individual search, put the CEO's name inside the box.
For bulk, switch to bulk mode and copy paste all the info or simply upload a CSV file.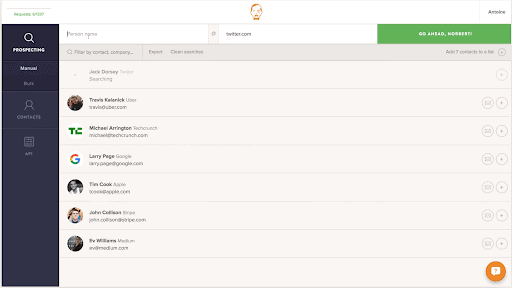 Most people send emails to spam traps and end up having themselves flagged.
Voila Norbert has a built-in verification system that detects whether the email address works or not.
If the result turns out to be accurate, a green dot appears alongside the result.
Not only this, Norbert also has an Email Enrichment feature that lets you dig a little deeper about the person behind the email address.
Now if we talk about the compatibility, Norbert can work with Google Chrome, Zapier, Hubspot, and 10 other apps!
Pros & Cons of Voila Norbert
Pros
Easy UI and email finding process
Quick and accurate results
Affordable pricing
Multiple integrations and availability
Good customer support
Email verification and enrichment
Cons
Free trial only gets you 50 free leads
Why Choose Voila Norbert?
Norbert gives accuracy and affordability with an easy approach.
More importantly, it's the best one on this list because we can see every email harvesting-related task in a single place.
2. AeroLeads
AeroLeads is a Chrome extension that finds email addresses.
It seamlessly integrates with websites like Linkedin, AngelList, Xing, etc. and finds emails of your prospects.
To get emails using Aeroleads, just explore networking sites like LinkedIn and add prospects to find their email addresses and phone numbers.

Just like Norbert, AeroLeads also has an email verification tool. However, the accuracy of verification isn't always comparable.
Pros & Cons of AeroLead
Pros
Ability to find phone numbers along with email addresses
Easy to use chrome extension
Affordable base pricing
Cons
Free credits are charged even when you put wrong or no details
The compulsion to go through a networking site
3. Hunter
Hunter.io, a common alternative to Voila Norbert, is one of the oldest email finder tools on the market.
Unlike other email finders, it has an entire database filled with the email addresses of various employees at specific companies.
Hunter has its data crawlers searching the web daily for new emails and data.
To access this data, enter the domain name of the target company into Hunter's web app.
Alternatively, you can use the chrome extension while visiting that website to extract all associated emails.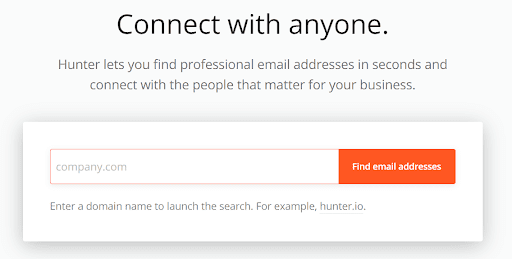 An additional unique feature of Hunter is finding names of any blog post's author.
On top of everything, it also has an option to send initial or follow-up emails to whoever opens your emails.
Pros & Cons of Hunter
Pros
Provides multiple emails associated with a specific company
A multi-purpose tool that allows you to find emails and reach out to your lead
Cons
Incomplete database with very few or no emails of recently founded companies
Limited email finding capacity and average accuracy
4. Snovio
Snovio is an all-in-one cold outreach automation platform. It has a ton of utility apart from just searching emails.
For starters, you can search for individual and bulk emails using names and domains.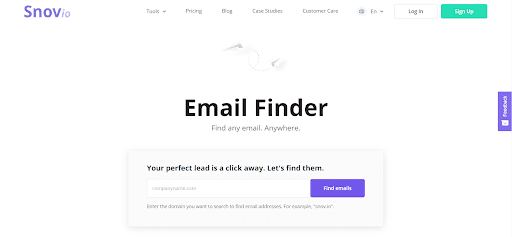 After finding out the emails, Snovio allows you to draft, send, and track your email campaigns.
Snovio has over 45 integrations and a searchable B2B database that has a list of companies divided by certain parameters.
The email finder itself works almost like any other tool but suffers in terms of accuracy and finding updated emails.
Nonetheless, it's easy to use. Just enter the domain name and hit a big button to begin the search.
Pros & Cons of Snovio
Pros
A versatile email finder that also happens to be an email campaign tool
Drip campaigns feature is a great addition
You can perform detailed searches for the origin country, city, and industry of the companies
Cons
The data is sometimes inaccurate and you need to use a 3rd party email verifier
5. Skrapp
Skrapp does single and bulk email searches using advanced algorithms. Unlike Voila Norbert, Skrapp simulates a company's email patterns to find the best results.
The working of this tool always keeps a possibility of failure as the results are more or less predictions of the email addresses.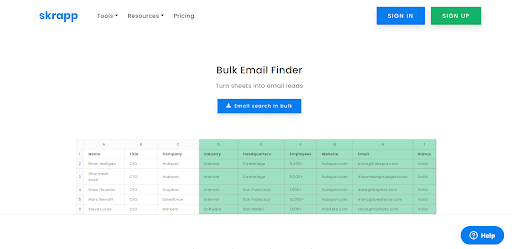 You can try out Skrapp for free to get up to 150 emails.
Pros & Cons of Skrapp
Pros
Team account options
A huge index of various companies
API V2 helps developers
Cons
Difficult to filter the prospects
6. Lusha
Lusha has a more narrowed approach than other email finders.
For instance, it's great for finding out contact information about salespeople and job candidates.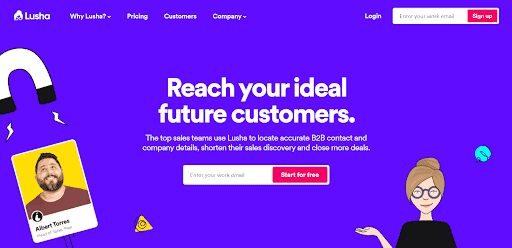 Conducting a company profile search is relatively easy but isn't as extensive as some of the top tools.
Nonetheless, Lusha has a decent amount of integrations with CRM software to make up for it!
Pros & Cons of Lusha
Pros
Finds correct emails and phone numbers
Scrapes social media sites for email
Good CRM integrations
Cons
The database is limited to LinkedIn
7. Find That Lead
This one looks like a replica of many email finder tools. But yes, it's an effective and easy to use tool.
You can make a quick search based on the prospect's name, company name, domain, or through the company profile search.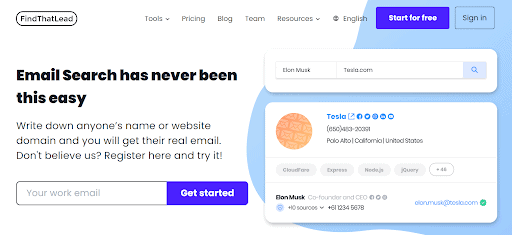 Using its Chrome extension, you can also extract emails from Twitter and LinkedIn profiles.
It also has a built-in email verification tool but the accuracy is sometimes questionable.
Regardless, you can get 50 free credits to try this out.
Pros & Cons of Find That Lead
Pros
Versatile search features
Email verification available
Available in 5 languages
Cons
Inconsistent results and limited targeting options<
8. ContactOut
Consider ContactOut as another versatile email outreach tool.
I said so because its CRM can organize your contact list and email outreach efficiently.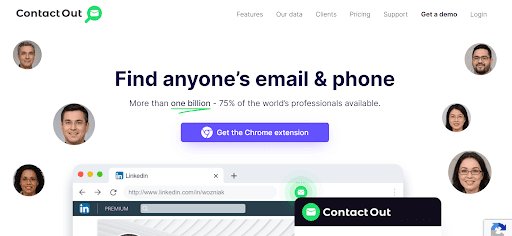 It comes with several templates for email campaigns that are fairly decent and reusable.
Pros & Cons of ContactOut
Pros
Affordable and good value for light users
Decent accuracy and consistency
A good amount of integrations
Cons
Limited searches with only LinkedIn and Github
Only yearly subscriptions are available
9. Clearbit
Clearbit is a simple and effective tool. It can find all the email addresses associated with a company just by using a domain name.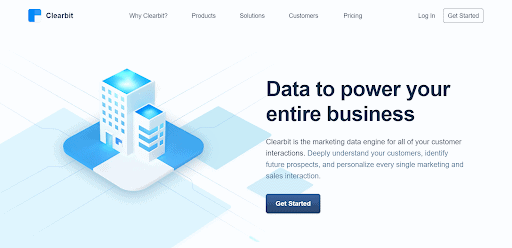 You can also search for additional details about the company stored in Clearbit's database.
The chrome extension is free to use. But with a paid plan, you can also have a Gmail integration plugin that will make outreaching easier.
Pros & Cons of Clearbit
Pros
Simple and easy UI
Easy to send emails directly after finding them out
A good amount of integrations
Cons
Expensive subscription which isn't ideal for smaller firms<
10. Adapt.io
Adapt.io is specifically designed to work on LinkedIn.
You can find hidden email addresses of your prospects directly from their LinkedIn page and export them to your CRM software.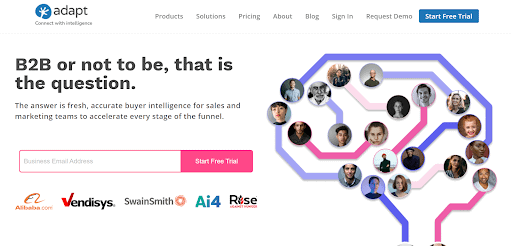 Pros & Cons of Adapt.io
Pros
Super easy to use
Compatible with several CRM software
Accredited by great companies like Amazon, Google, Twilo, etc.
Cons
lower and sometimes inaccurate results
11. Prospect.io
Prospect.io isn't primarily an email finder tool.
In fact, the email finder and verifier is just an add-on to the base service provided by Prospect.io.
The service includes customer contact management, sales funnels, workflow and productivity management, etc.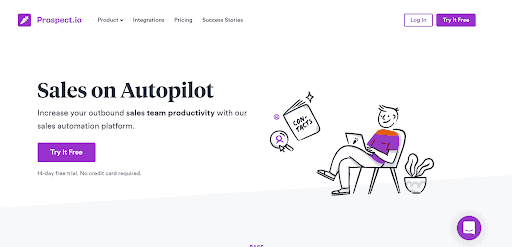 The email finder itself works identical to others on this list.
To find emails, you need to type the name of the person and their company name.
After that, verify the email to find its integrity.
Pros & Cons of Prospect.io
Pros
An all-rounder – Find, nurture, and convert a lead
Drip campaigns are easy to set up and follow
Proven to give an average reply rate of over 25% 
Cons
Not centered around finding emails
12. RocketReach
RocketReach finds emails, phone numbers and social media links.
The tool has the backing of a large database that has emails of over 400 million personnel from over 17 million companies.
The vast database and its unique ability to find the social media links can easily give information about the targeted leads.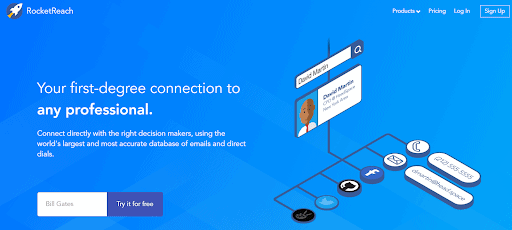 Other regular features of the tool are a decent API, bulk search, and a chrome extension.
Also, the extension allows you to extract data from networking sites like AngelList, LinkedIn, Crunchbase, etc.
Pros & Cons of RocketReach
Pros
Easy search filtration to find emails from specific target industries
A connection with Zapier and Salesforce gives flexible integration
No credit card is required
b>Cons
No direct integrations with CRM software
13. Hiretual
Hiretual is specifically designed to find perfect candidates for employee positions.
Whenever you're searching for emails using Hiretual, you can also look up their professional data.
This data includes their
work experience, seniority level, and compensation range.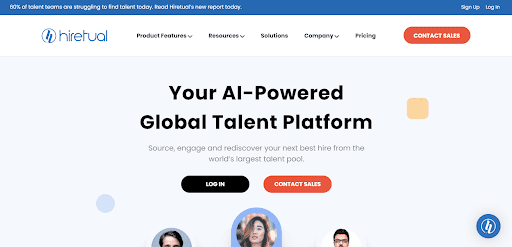 All of this is done using an AI sourcing assistant.
Hiretual also has a Talent Data Cloud that integrates with your ATS system to manage your candidate's data effectively.
Pros & Cons of Hiretual
Pros
Integrations with ATS systems makes the recruiting process easy
Organize source findings
Professional data like work experience, hierarchy level, and estimated compensation
Cons
The AI is slow and sometimes inaccurate
14. Discoverly
Discoverly finds an email address along with context.
To bring up some context about the person behind the email, the extension pops up whenever you find their email address.
There, you can see their social and work info aggregated by their online presence.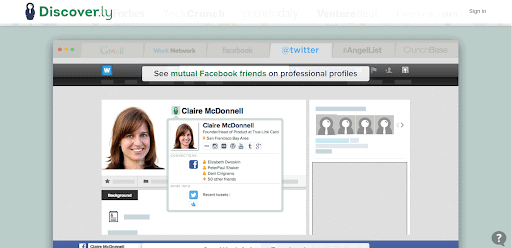 If you put the most probable variations of an email address, Discoverly selects the most likely variant.
So as far as I see, Discoverly is more like an email confirmer than a finder.
Pros & Cons of Discoverly
Pros
Provides additional context about the original owner of the email
You can see mutual connections
Great for making outreach more effective
Cons
A challenging process to find emails with a decent chance of failure
15. CEO Email Address
As the name suggests, this tool is a CEO finder.
Although there is no specific information as to how many companies this tool covers, you can find many top organizations here.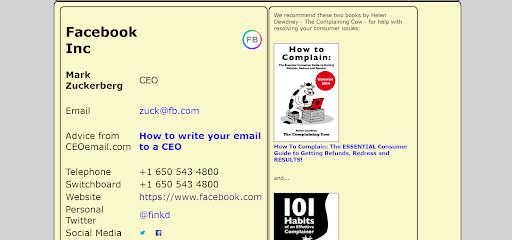 Even though the UI is dull, it's simple and easy to use.
All you need to do is type the name of the company. With that, you can find the CEO's phone number, social media links, and email address.
Pros & Cons of CEO Email Address/h3>
Pros
Easiest email finder tool on this list
Detailed information about the company and the CEO
Offers additional resources like associated news, company recommendations.
Cons
A very limited database and not enough flexibility.
Summing Up the 15 Best Email Finder Tools
My pick is obviously the 1st one on the list.
Compared to others, Voila Norbert has a great level of functionality and versatility at an affordable price.
Regardless, make sure you narrow down this list and try out the email finders yourself before committing to any one of them.