//=get_the_date()?>
How to Create Wix Referral Links (Updated Mar 2023)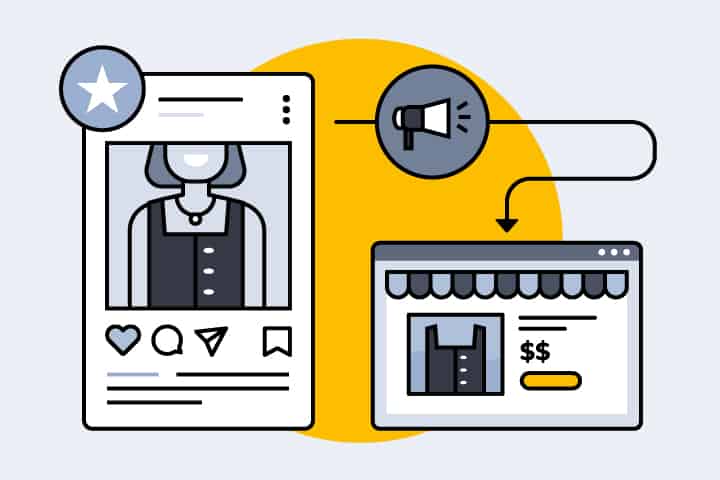 As your Wix store grows, you need new ways to keep growing. One of the best ways is to start a referral program. So to do this you will need to know how to create Wix referral links for your customers. A great way to do this is to use a Wix referral software. The list below highlights some of the best solutions that you can use if you do not know how to create Wix referral links.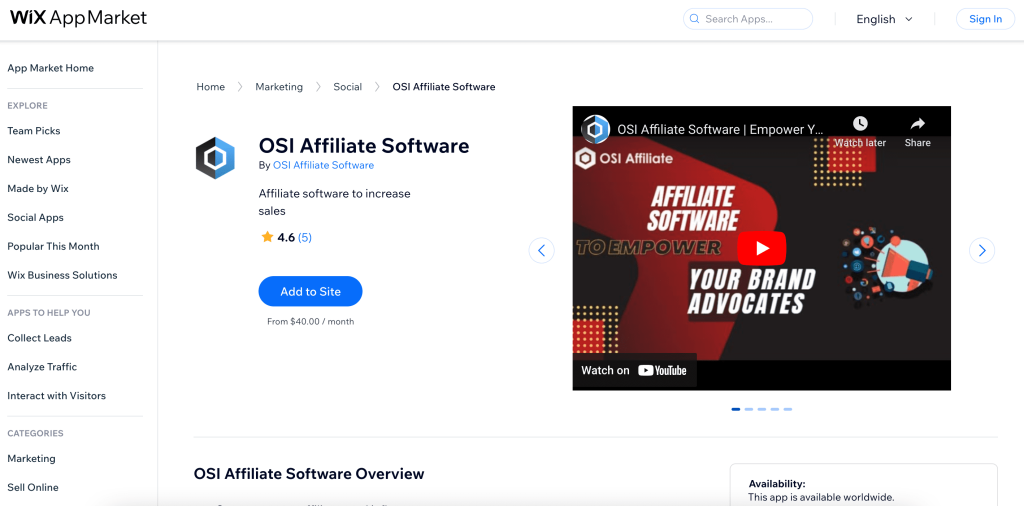 The OSI affiliate software is a network that connects businesses with affiliate programs. This allows companies to run their affiliate program and connect with other businesses that have established programs. The software is designed to give affiliates the resources and tools they need to succeed. It provides a comprehensive platform for managing all aspects of an affiliate program. 
OSI Affiliate Software is a powerful yet easy-to-use affiliate marketing software that helps businesses increase affiliate sales and drive higher profits. It provides everything you need to create, track, and manage your affiliate program. Affiliate links, such as this one from an essay writing service, are a great way to promote your product and develop your brand. 
The software offers a variety of features, including customizable sign-up forms and welcome emails, real-time reporting and commission tracking, automatic payment processing, an intuitive administration panel, and more. Plus, it's fully integrated with leading shopping carts and billing systems so you can get started quickly and easily.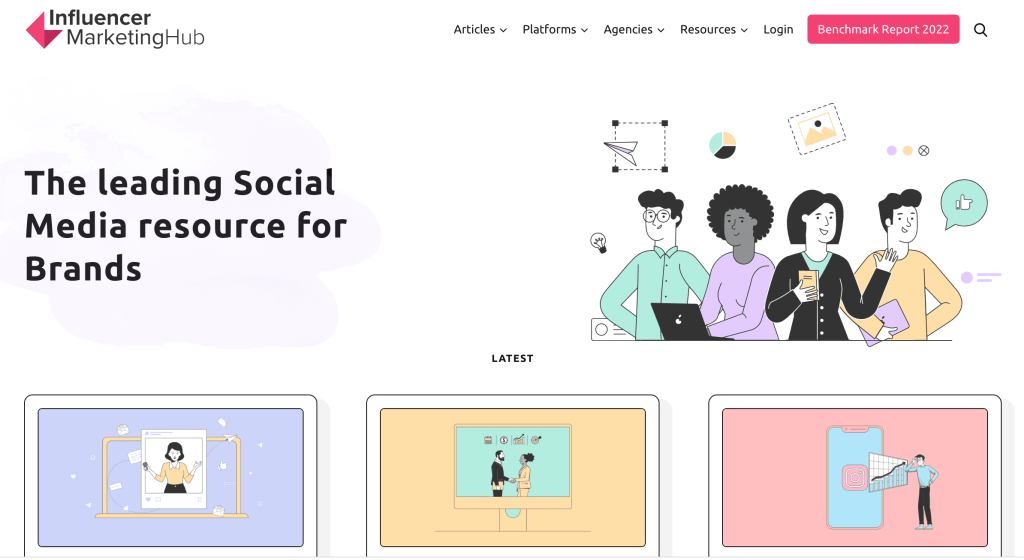 Influencer Marketing Hub is a social media marketing tool that enables users to connect with influencers in their niche. Additionally, it allows users to create and manage affiliate relationships with brands and products. In other words, Influencer Marketing Hub helps users promote influencers and their content to a larger audience.
Through the app, users can identify popular influencers in their field, have exclusive access to content from those influencers, and share that content with their followers. Additionally, users can manage affiliate relationships with brands and products, connecting them with potential customers.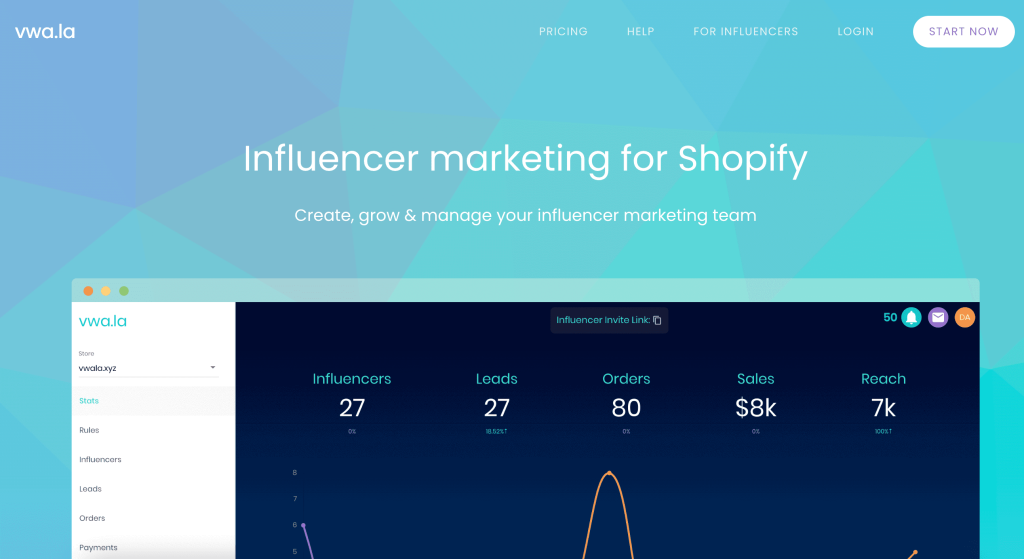 Vwa.la is an affiliate app that allows users to earn referral commissions. When a user signs up for an account with Vwa.la, they are given a unique referral link that they can use to promote products and services from merchants that partner with Vwa.la. When someone clicks on the referral link and purchases from one of the merchants, the user earns a commission on the sale.
Vwa.la offers a convenient way for users to earn money by simply sharing links with friends and followers online. Commissions can add up quickly, making it a great way to generate extra income.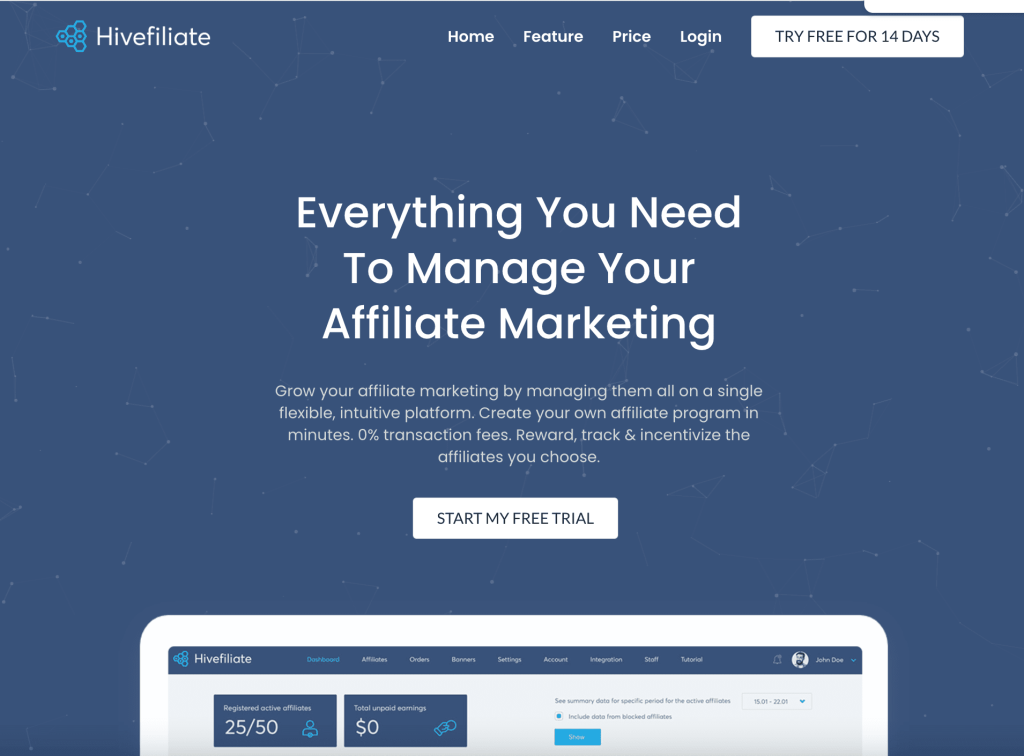 Hivefiliate is an affiliate marketing application that allows users to promote products and services on their websites, blogs, and social media channels. The app provides users with various tools to help them succeed in affiliate marketing, including link tracking, commission management, and media resources. It also offers a community forum where users can connect with other affiliates and learn tips and tricks for successful marketing.
Hivefiliate has many features that allow businesses to control how their affiliate program works. This includes creating custom commission rates, setting up exclusives and rewards, and managing traffic flow between affiliates and the business.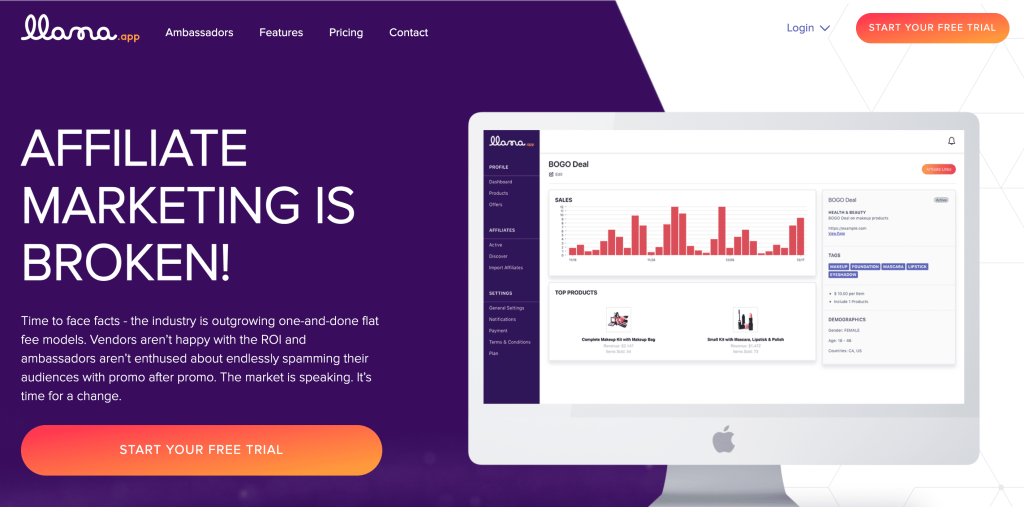 LLAMA is an affiliate marketing platform that allows influencers to monetize their content. Influencers can add affiliate links to their posts and receive a commission whenever someone clicks on the link and makes a purchase, in addition to making money from affiliate sales.
LLAMA also allows influencers to connect with brands and collaborate on sponsored content by providing a platform to share products they love with their followers. When someone makes a purchase using LLAMA'sLLAMA's links, the business and the blogger earn a commission. It'sIt's a simple way for companies to increase their sales and for bloggers to make some extra cash.

MuseFind is an affiliate marketing app that connects content creators with brands and helps track sponsored content performance.
MuseFind makes it easy for anyone with a blog or social media following to start making money by promoting products they love. Create a profile, and start browsing the latest deals from top brands. When you find a product you want to promote, add it to your portfolio and start sharing it with your followers. MuseFind will take care of the rest, tracking clicks and conversions and sending you regular payments based on your performance.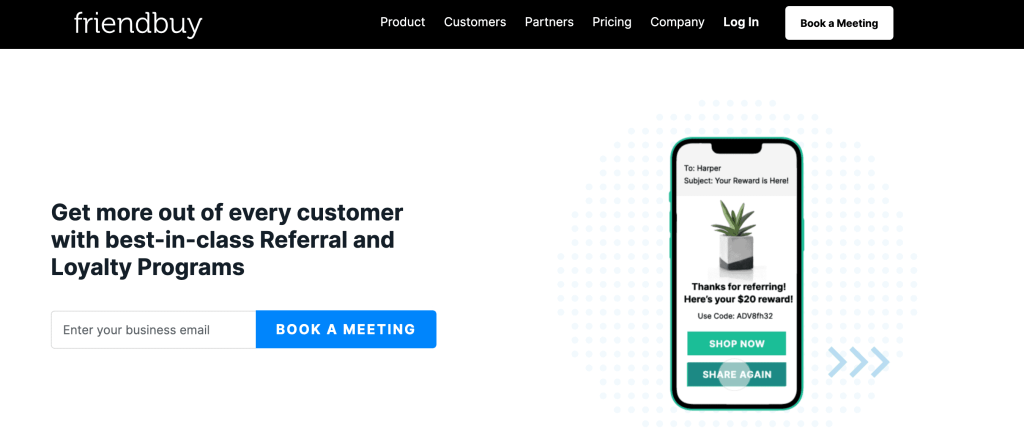 Friendbuy is a powerful affiliate marketing app that helps you grow your business by making it easy for you to use referral programs. It'sIt's super simple to use – sign up, choose a program, and start sharing your unique referral link with your friends. You'll earn a commission when someone uses your connection to make a purchase!
There are lots of different ways to use Friendbuy to grow your business. You can use it to promote special offers and discounts or even give away freebies to loyal customers.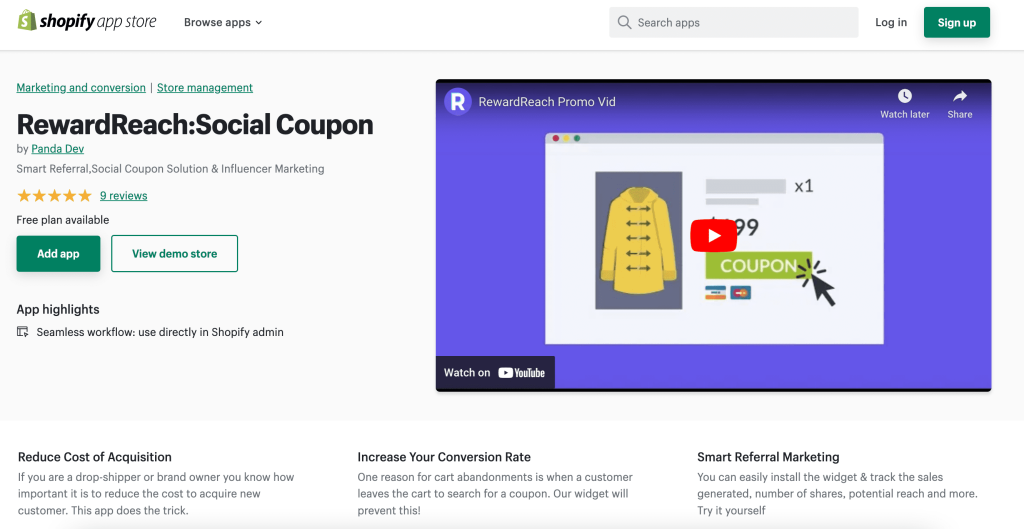 RewardReach is an affiliate app that offers cash back on online purchases. It is one of the few apps that provides a flat rate of money back on all online purchases, regardless of the merchant. Merchants do not have to be willing partners with RewardReach for customers to receive cash back; any merchant who sells products or services online can qualify. There is no limit to the amount of money a customer can earn, and rewards are automatically deposited into the customer's account each quarter.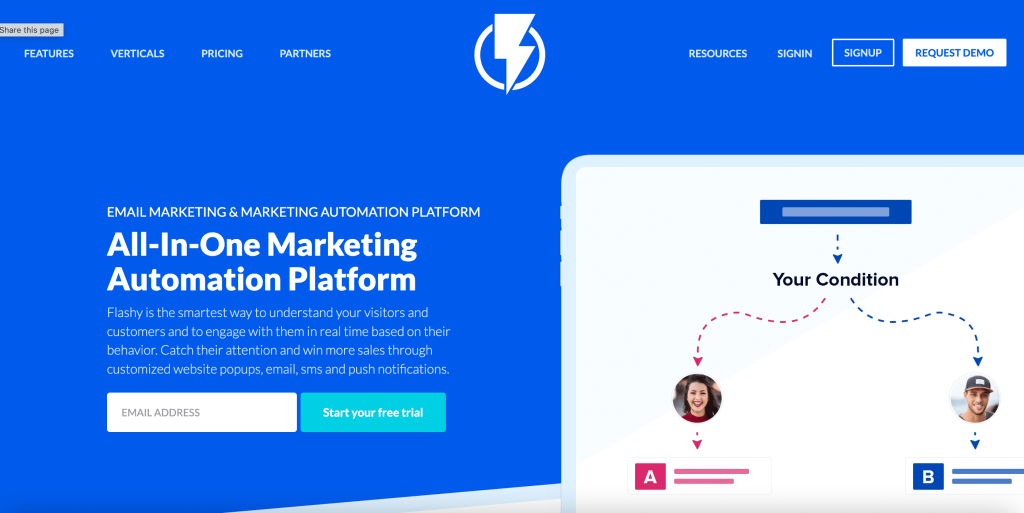 Flashy is an affiliate app that rewards users for signing up and using other apps. Flashes of cash, in-app currency, or other benefits are given to users when they successfully refer friends to a service or product.
They can be a great way to increase engagement and loyalty for both users and developers alike. For example, let's say you're the developer of an email app. You could offer a percentage of your monthly active user total to people who sign up using someone else's referral code. This would encourage people to promote your app to their friends and family, leading to more installs and usage.
The affiliate marketing world is constantly changing, and new apps are always coming out that can help you make more sales. Have you tried any of these affiliate marketing apps? What has been your experience with them? Comment down below and let us know. We'd love to hear from you!