How to Start Affiliate Marketing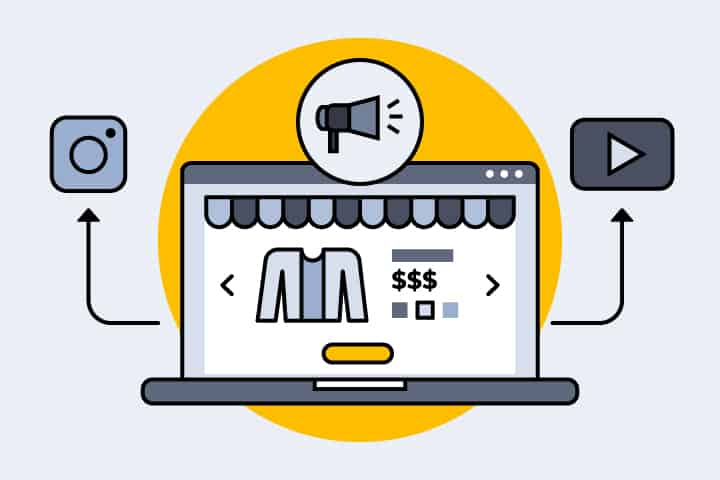 Affiliate marketing is promoting other companies' products by reviewing them. That can be done on a YouTube channel, on a blog, Instagram, or even Tik Tok. When someone buys a product after clicking on your affiliate link, you get a commission. In other words, you help to make a sale and earn commissions from a company. As an affiliate marketer, you can promote products from many different companies and get paid from all of them, while a typical salesperson sells products from only one company. What are the main steps of how to start
Affiliate Marketing successfully?
#1: Choose Your Niche
Choose a topic that focuses on a specific category. For example, the topic of "clothes" is a huge category to work with. But if you try something like "Women's Gym Clothes", you'll keep your topics tight. It can help you build a focused audience and rank higher in search engines. What's more, if you're going to be the main content creator, choose something you enjoy. Google Trend is a good way to get inspired by new niches that are currently driving a ton of consumer interest.
It's not critical if you're not an expert in the field. You can just document what you learn and show your progress to the audience. That can make great content that will attract people!
If you're outsourcing the content, it's important to work with seasoned experts in the niche. It can help you create high-quality, convincing, accurate work, which can help you get more traffic, engaged visitors, and more affiliate sales.
#2: Drive Traffic to Your Affiliate Site
Starting a blog is relatively easy and cheap. So, since you've created great content that solves the visitor's problem, get more people to read it! Your goal is to get them to click on your affiliate links. What can you do to reach it?
Choose the Right Platforms for Your Industry
When deciding on a platform for your niche, remember that each targets a different audience.
Make a Consistent Posting Schedule
This will keep you active and accountable. To fill your blog with catchy content, you can use services like Essay Tigers to get custom articles for your specific audience. It will save you time and help you increase your traffic.
Incorporate Actionable Steps
Give your visitors the next step, enabling them to take action right now.
Answer Your Target Audience's Questions
You can find the questions that your audience asks most commonly. You can do it with the help of search engine results and social media searches. That's the way you can solve your visitor's problems and create catchy content.
Guest Post on Blogs With Your Target Audience
Don't worry if you can't make guest posts on the most popular blogs with millions of readers. Even a local one will enable you to grow your organic traffic more effectively. Also, don't be afraid to include links to your own relevant work within the post.
Optimize Your Site's Links
Messy or hard to understand URLs can lead to a reduction in 'link trust', so make sure your website has a solid structure.
#3 Get Clicks on Your Affiliate Links
Just because you have amazing content doesn't mean people will click on your affiliate links. Here are the steps to get your readers to click on your affiliate links.
Create Content Around the Promoted Product
Tell your readers more about the product you are promoting. If you put some information about the product on your website to make it more trustworthy, more readers will click on your link.
It's also better to recommend products you are extremely familiar with.Make sure you don't encourage the readers to buy a product, but rather simply recommend the product. The more helpful and expert you are, the more likely your visitors will come back for your advice.
Insert the Links in Your Content
The best place for your links is inside the content because that's where you get the most CTR for your affiliate link.
Create Call to Action
Don't just place your affiliate link at the bottom of your content. Ask your readers to click it. You can also tse callouts which can help attract your readers' attention and make the post more interactive.
#4: Convert Clicks to Sales
Link to Merchants With the Most Power Rank
Doing this, you will make your audience feel more comfortable buying from them.
Optimize Your Conversion Funnels
A conversion funnel is the path of your reader from landing on your blog to taking the desired action. What you need is to optimize that funnel for maximum conversions. The more pathways you create to lead people to your affiliate links, the more conversions you get.
Check If You're Using the Right Channels to Promote Your Affiliate Links
Devote time to collect and understand the data of each funnel you have placed affiliate links·to find out which one resonates better with your visitors. If you have a clear understanding of which funnel has a better conversion rate for you, then you can bring in more sales. Make sure you've found all the available channels to promote your affiliate links.
Constantly Analyze Needs of Your Target Audience
Keep in mind that your audience and their needs are constantly changing. A funnel that worked effectively a year ago, might not be valuable anymore.
Track Your Visitor's Behavior with Google Analytics 
Use Google Analytics to start tracking and analyzing your visitor's behavior and see how many of your readers are converting into shoppers. Track your statistics not only for choosing the best marketing strategy but also for having an overall view of your posts' density.
#5 Choose Affiliate Program
There are a lot of Affiliate Programs you can find and join. Remember to check the commission rates, average order values (AOV), average earnings per click (EPC), and cookie durations while choosing the best one. Don't forget to see if the program is recurring, or provides one-time payments.
Conclusion
Follow the tips included in this article, and you'll be able to engage your audience, convert passive readers into active shoppers, and get your rewards from companies!