//=get_the_date()?>
20 Best Wix Apps For Your Ecommerce Store (Updated Sep 2022)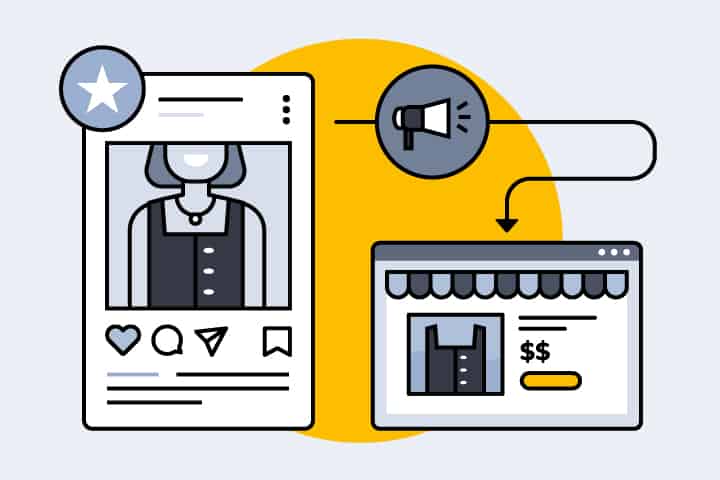 Wix provides you the opportunity to have a fully functional online store up and running on the internet. While using Wix to create that online store, you should also take a look at the different Wix apps, which will assist you with further enhancing the functionality of the store. For instance, some of them will allow you to analyze abandoned carts and get valuable insights into consumer habits, while others will provide you with helpful photo and video editing tools. From this article, we will help you to figure out what those apps are.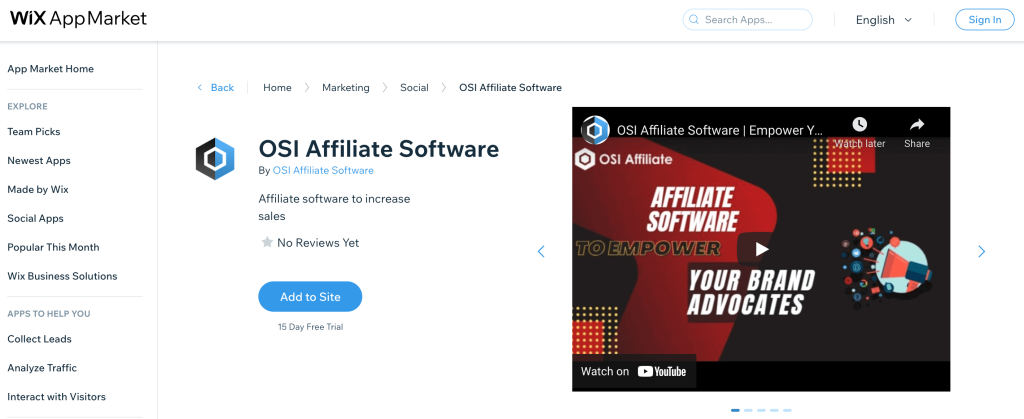 If you are looking for a way to take your online store to the next level with influencer marketing and affiliate marketing, you should be taking a look at the OSI Affiliate Software. It is one of the best tools available out there to get the job done as of now. On the other hand, you will also be able to find access to numerous promotional tools, which can help you with promoting your brand in a better way. You will be impressed with the customized sign up page it offers. Moreover, it provides you the opportunity to manage your affiliate links without a challenge. This will help you to track commissions and get work done without a challenge.
Pros
It comes with excellent affiliate link management
You can grow your email list with it
You can turn customers into marketers with it
Cons
This is not a free tool to use
Key Features
You can easily manage your affiliates with the help of OSI Affiliate Software
It comes with an easy to use interface
You can automate commission tracking with it
Pricing
Basic plan will cost you $40 per month and the Professional Plan will cost you $86.6 per month.
My Overall Impression
Anyone who wants to bring in more customers through customers to the ecommerce store can think about using OSI Affiliate Software. It is the best way to manage affiliates as of now.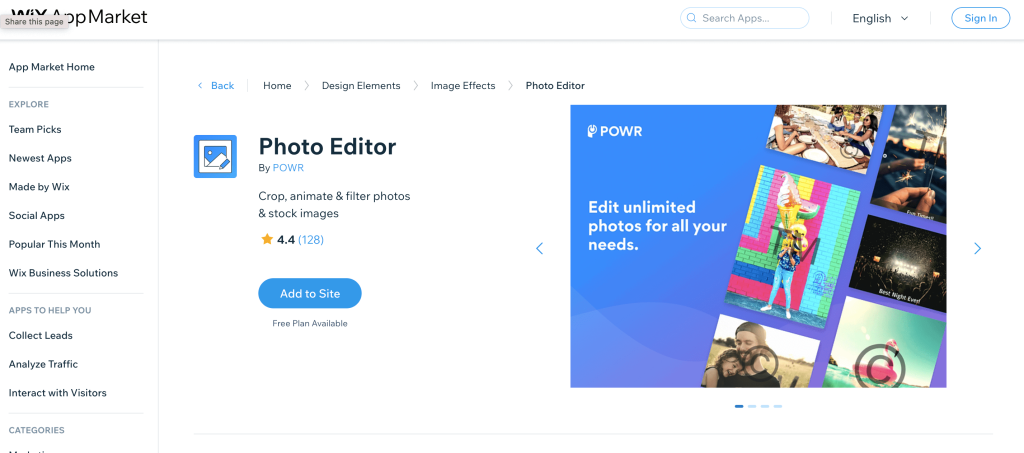 Currency Converter is a currency converter app. You may use this tool either automatically or manually. The user's currencies will be determined based on geolocation in the automated version, and the price will show alongside the original. The consumer must click a button just on the product page to view the pricing in their currency inside the manual version.
This Wix app supports 160 different currencies. The style and colors may be customized to fit the branding for your online business, and key metrics are updated each three hours.
Pros
Provides a hassle-free currency conversion functionality
Automates currency conversion for you
You can define manual controls
Cons 
It takes up to 3 hours for automate currency conversion to work
Key Features
Automated and manual currency conversion
Automated currency conversion based on geo-location
Ability to customize the design to match with store
Pricing
Basic version is for free. You can get the premium plan for just $3 a month.
My Overall Impression
If people from all around the world come to your online store and buy from different currencies, you should think about using this.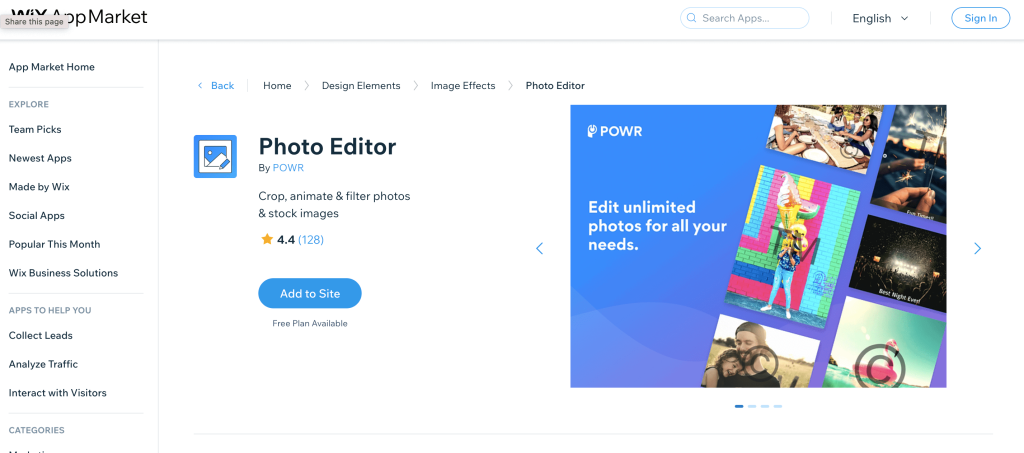 Any picture may be edited, resized, and filtered using this program. Wix allows you to add a watermark on royalty-free photos and alter them for your online business. Photo Editor also allows you to change the colors and fonts of captions, add frames, resize photographs, and optimize them for improved SEO.
Pros
You can easily edit photos
If there is a need to resize photos, this tool helps you with it
You can get help with SEO as well
Cons
Key Features
Offers all basic photo editing features such as resizing and editing
Comes with a variety of filters
You can add a watermark to any photo
Pricing
There is a free plan with limited filters. You can get the starter plan and pro plan with added features for $3.18 and $3.99 per month respectively. Business plan is available at $7.99 per month.
My Overall Impression
If you want to customize images and make them look good without a challenge, you may use this app.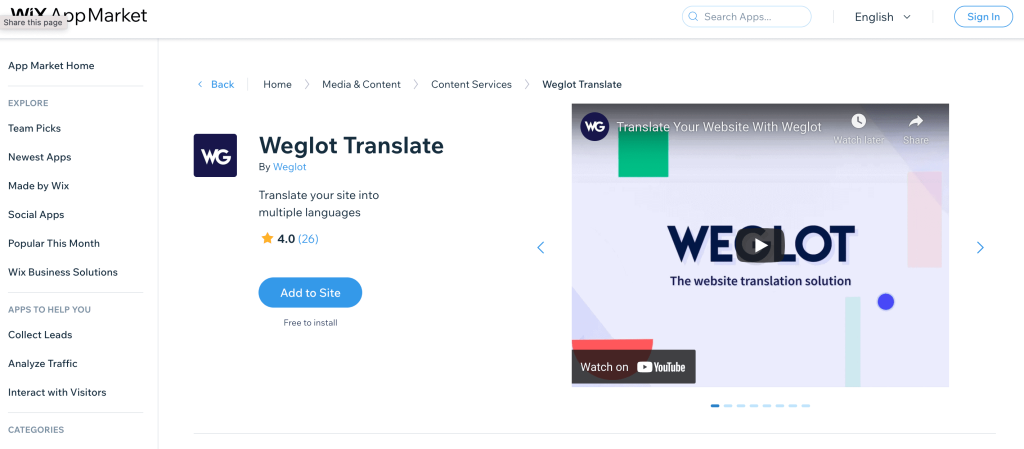 The Weglot Translate software allows you to convert your Wix website or online shop into different languages in order to improve your sales and market reach. To achieve the optimal balance of prices, time, and quality, combine automated translations with expert translations. Weglot is compatible with in all themes and applications and offers multilingual SEO tools for Google.
Pros
You can automate translations
Easy to add to your Wix website
Offers multilingual SEO features as well
Cons
Key Features
Offers numerous translation languages
Automated translations
Helps with numerous SEO features
Pricing
This offers a free trial for 10 days. You can pay as you go when using it.
My Overall Impression
Anyone who is looking for a reliable language translation tool for the Wix store may think about using this.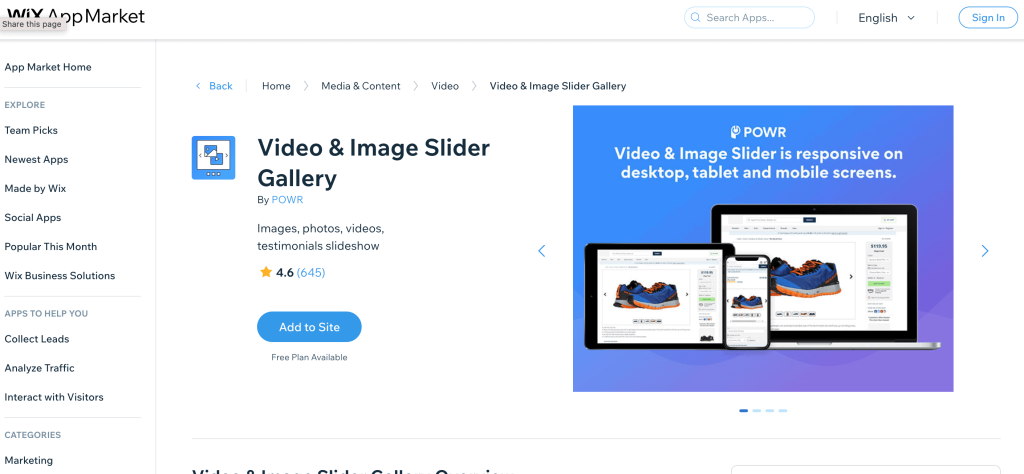 You may select the pace and type of transition in your picture and video portfolio, add a glimpse of the complete carousel, including movies from YouTube or Vimeo, and utilize the carousel to offer promotions or customer evaluations with the Video & Image Slider Gallery. Customize the carousel to match your brand's colors, font, thumbnails, and borders. You may also opt to show the photographs in a random sequence and adjust the slide changeover speed.
Pros
High customization options
You can easily control speed
It is possible to pick a random order display based on your preferences
Cons
This is not a free tool to use
Key Features
Control style and speed of videos
Helps to see customer preview before you commit
Helps you with customizing borders, typography, and colors
Pricing
Free plan offers just 3 slides. If you want to get a starter plan or pro plan, you will have to spend $3.99 or $9.49 per month respectively. A business plan is available at $15.95 per month.
My Overall Impression
Your image/video gallery is at the center of attention. If you want to further highlight it, this is the ideal option to consider.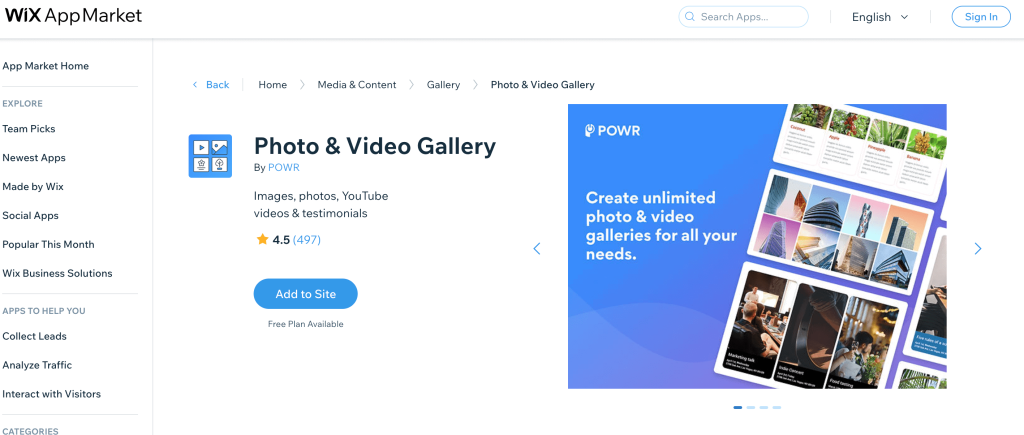 A variety of tools in the Photo & Video Gallery application make editing and displaying visual information simpler. Create CTA links and a search function, add a magnification option to items or videos, make an image or video gallery, include titles, subtitles, and alt language for SEO, and more. To meet your brand look and website design, adjust the spacing, crop shape and size, border, and text.
Pros 
Helps you with creating a beautiful gallery with ease
Offers the chance to add titles and subtitles
SEO features are available
Cons 
Customization is not the most user friendly
Key Features
Create CTA buttons with ease
Makes it easy to do content editing
Can pick typography according to your brand
Pricing
Free plan offers 5 images or videos. If you want more, you can go for the starter plan at $3.19 per month.
My Overall Impression
If you want to make your life easy by displaying a photo and video gallery on the online store, you should be using this.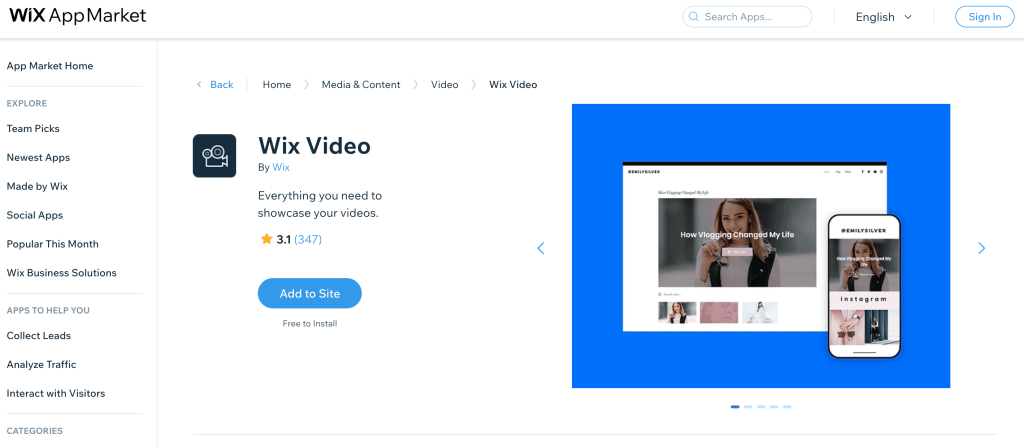 Upload your videos straight to Wix or export them from those other channels to harness the power of video content. You can embed videos in high quality from Vimeo, Facebook, YouTube and even Daily Motion with the assistance of Wix video.
Pros 
Enables zoom options on products
Helps you to display videos quite easily
Comes with rich video editing features
Cons 
It may take some time for you to get used to video editing features
Key Features
Upload videos directly
Import videos from other channels
Ensure quality of videos
Pricing
This is a free app to use.
My Overall Impression
Wix Video can make it easy for anyone to add videos to the online store.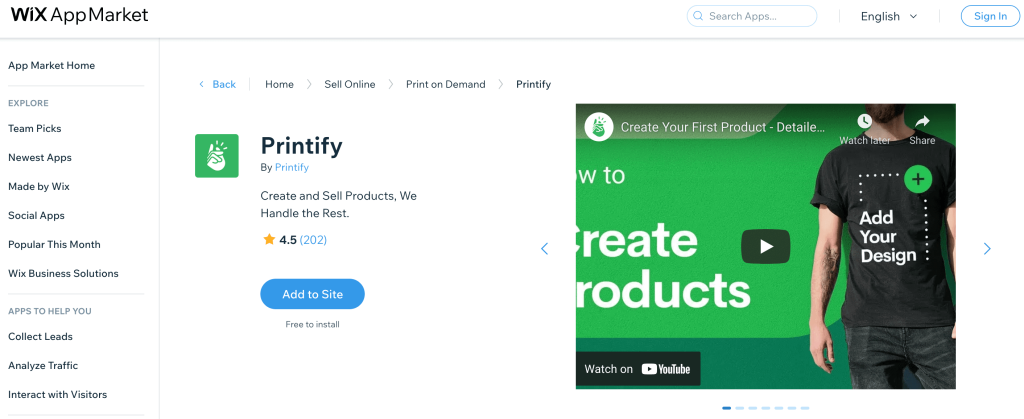 Printify makes it simple to sell personalized items. You may construct a catalog including over 250 customized goods with this software. Choose from one of 90 print providers, connect your library, and develop product descriptions to start selling on-demand even without hassle.
Pros 
You can easily sell customizable products
You may pick from one of the 90 available locations
Offers you the chance to sell products on demand with ease
Cons
Some people feels that the catalog is limited
Key Features
Create a catalog with ease
Offers over 250 personalized products
Offers printer providers from over 90 locations
Pricing
There is a free plan with 550 products. If you want unlimited products, go ahead with a premium plan at $29.90 per month.
My Overall Impression
If you want to create and sync a catalog and get all benefits coming with it, you should be using this.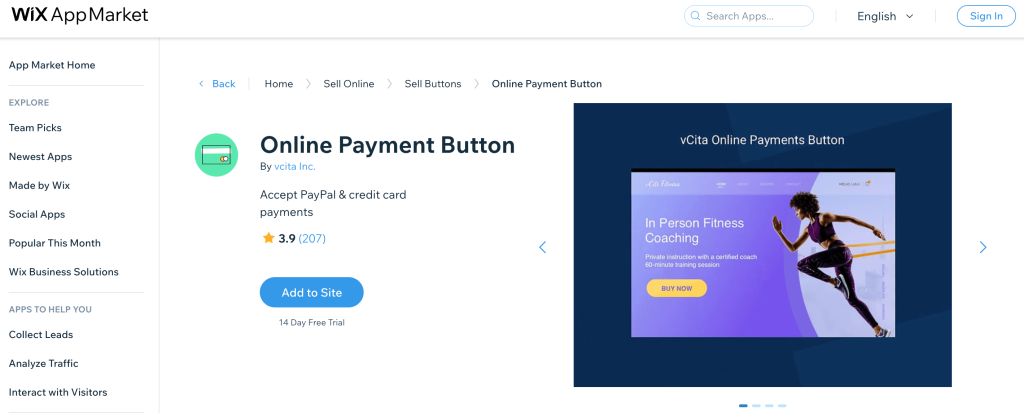 You may also accept payments using PayPal, Stripe, Square and other payment gateways with the Online Payment Button software. Accept payments in over 25 different currencies, including digital currencies like Bitcoin, and handle all of your transactions from one place. The Payment Processing Button has limitless design and modification choices to match your online store's identity.
Pros 
You can easily manage all your payments
Supports over 25 currencies
Comes with unlimited design features
Cons 
People in some parts of the world cannot use it as their currencies are not supported
Key Features
Offers payment acceptance through multiple channels
Supports 25 currencies
Manages payments from one interface
Pricing
Basic plan at $8 per month and Essentials plan at $19 per month.
My Overall Impression
Online Payment Button makes it easy for all your visitors to make payments.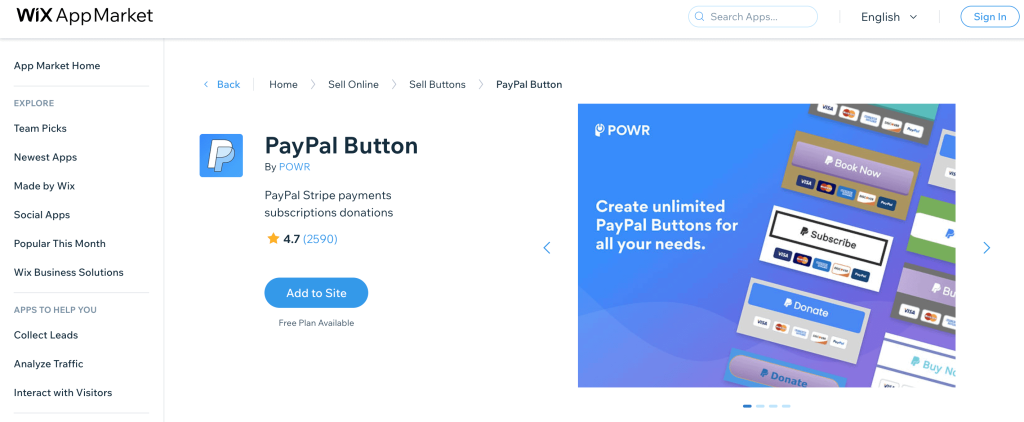 Accept payments in more than 25 currencies using PayPal or Stripe, as well as debit cards, credit cards, and other methods. You may also create discount coupons, allow free delivery, charge for taxes or shopping, and set up automated payment confirmation emails.
You may modify the PayPal payment button with your brand's colors and adjust other components like the font, borders, and text. You may unite numerous goods into one using the Bundles & Connected Inventory software to boost the average order value and sales volume. Connect this program to your online shop to automatically update your inventory for products sold in packs.
Pros
Provides a straightforward method to add a PayPal button
You can enable discount codes
Helps you with tax calculations
Cons
Initial configurations can be time consuming
Key Features
Straightforward option to add PayPal button
Supports over 25 currencies
Sends automated confirmation mails
Pricing
A free plan is available with 25 transactions per month. If you want more, you can go with premium plans starting at $3.18 per month.
My Overall Impression
Do you want to add the PayPal button that you see in other stores? Then you should use this.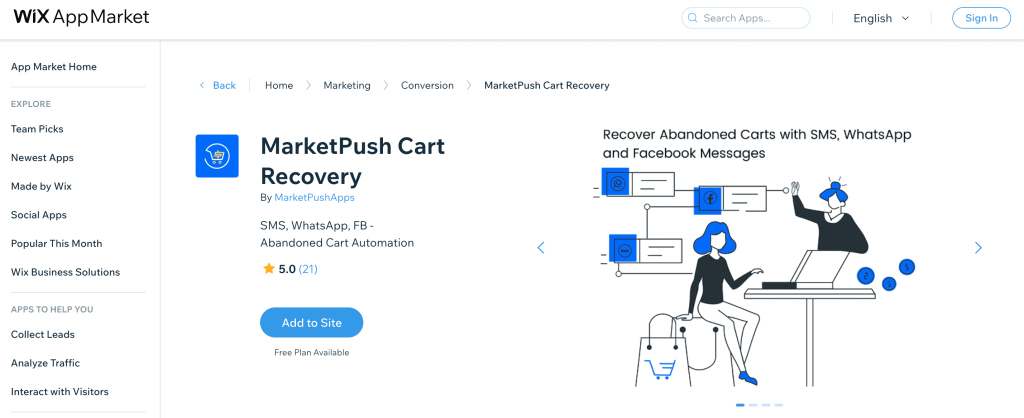 The MarketPush Cart Recovery tool is designed to address one of the most prevalent issues that online shop owners face: abandoned carts. Messages may be sent automatically via SMS, Facebook, or WhatsApp. You'll be able to send a tailored message to a client who signs up for this form of contact, and you'll be able to determine when it's delivered to optimize conversions. A link to the abandoned cart's checkout is included in the notifications. Monitor and monitor carts that have been retrieved to determine what frictions are triggering cart abandonment.
Pros 
You can easily overcome challenges with abandoned carts
Send automated messages to customers with ease
You can monitor recovered carts
Cons 
It is not 100% accurate with cart abandonment monitoring
Key Features
Recovers abandoned carts
Sends customized messages to customers
Helps improve conversions
Pricing
Free plan with 3 cart attempts. Premium plans starting at $10.99 per month.
My Overall Impression
If you want to reduce cart abandonments as much as possible, this is the right app to use.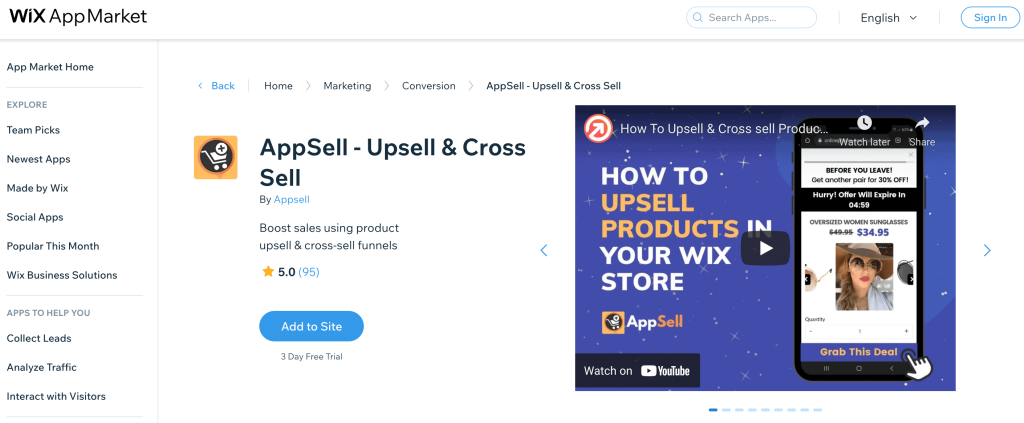 AppSell's automatic cross-selling and upselling methods can help you boost the average value of the orders as well as the number of goods sold. You may also make special offers and discounts for customers who purchase the recommended goods. You can also brand your online business by customizing the cart, checkout, and thank you pages using the app.
Pros
You can increase order value with ease
You may increase the number of products you sell
It offers excellent cross-selling strategies
Cons
Customizations can be complex
Key Features
Offers upselling and cross selling
Helps create temporary promotions
Customized checkout and cart page creation
Pricing
Basic plan starting at $11.95 per month.
My Overall Impression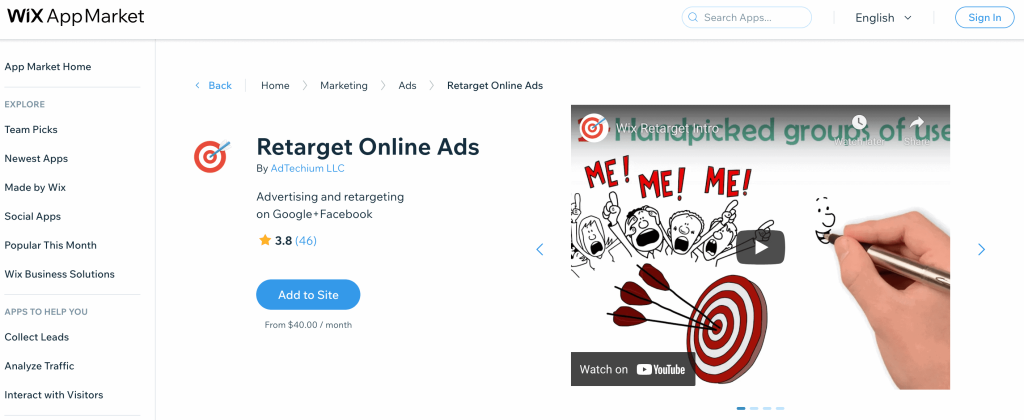 You may use the Social Networking Icons app to add icons from your social networking sites and other platforms to your Wix page. Effects, animations, colors, and even your own logos may be added. WhatsApp, Spotify, Reddit, Medium, LinkedIn, Pinterest, YouTube, Twitter, Instagram, Facebook, and more internet platforms are available. This app is fully functional on mobile devices.
Pros
Offers icons of all prominent social media networks
Easy to add any icon
Fully mobile compatible
Cons
Icons of some new social media networks are not there
Key Features
Adds all popular social media icons
Offers over 50 buttons to select from
Adds animation effects
Pricing
Free plan with 3 social media icons. Premium plans starting at $3.16 per month.
My Overall Impression
When you want to grow your social media follower base, simply use this app.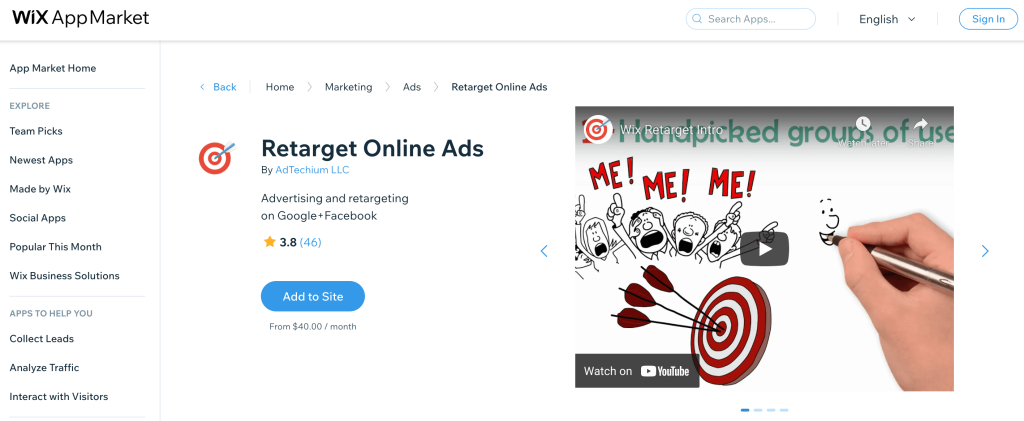 Connect your online shop to Google Ads to attract new consumers. This tool will explain the process of starting a Google Ads campaign. You'll be able to see how many sales and leads the campaign produced, and other useful information.
Pros
Easy to use
Offers guidance
Increases sales
Cons
You should be familiar with Google Ads to use it
Key Features
Display Google ads on store
Helps optimize campaigns
Provides access to useful data
Pricing
It has one plan, which is $75 per month.
My Overall Impression
You can use this app to take the power of Google ads and display them with ease.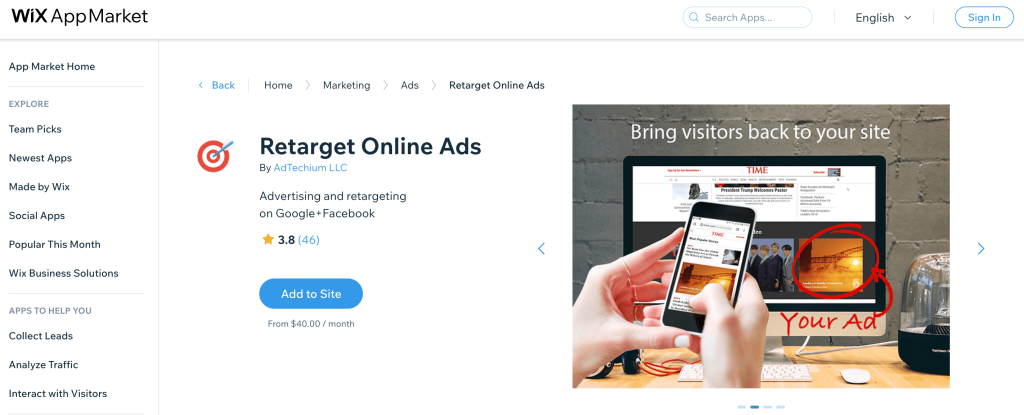 This Wix app is all about putting retargeting plans into action.  The tool's wizard allows you to create advertising in less a minute. You may share them on a variety of venues, including Facebook and Google's marketing channels.
Pros
Quite effective with retargeting
Wizard can help you to make life easy
Offers the chance to publish on different platforms
Cons
Not all platforms are supported
Key Features
Effective ad retargeting
Supports multiple channels
Easy to set up
Pricing
Plans are starting at $40 per month.
My Overall Impression
When you want to get a helping hand with retargeting online ads, you should be using this.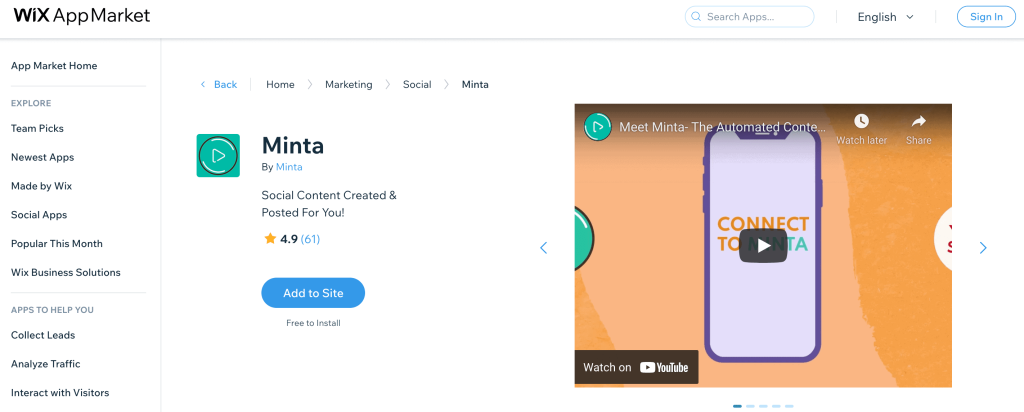 Minta is a one-click solution for creating, planning, and publishing films and photos. Minta automates the whole process of developing and advertising social media content by quickly creating videos and photos from the store's product inventory. Minta is ready to link to social media platforms such as TikTok, Instagram, Facebook, and Pinterest.
Pros
One-click publishing
Supports images and videos
Automation features
Cons
Key Features
Access to branded product videos
Customize text, music, and style
Helps schedule social posts
Pricing
Unlimited plan is only there, which is $20.75 per month.
My Overall Impression
When you want to automate content marketing out of your online store, look no other option than Minta.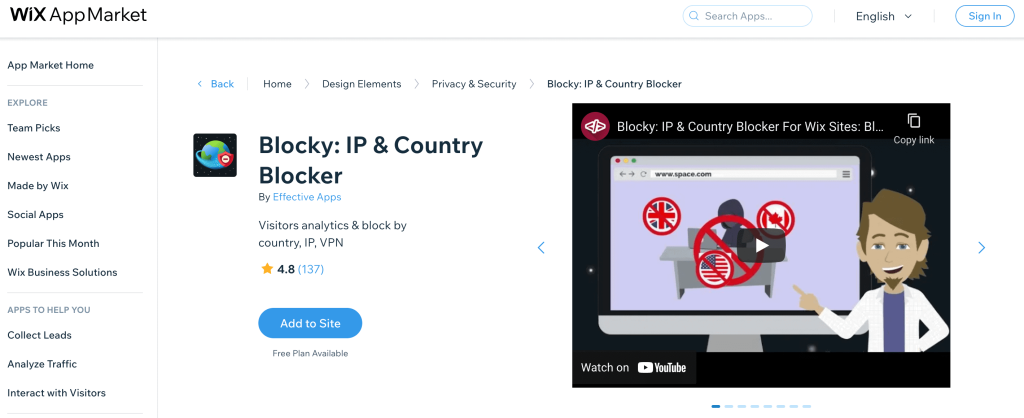 You may ban people machine – readable Ip location, proxy, and VPN connection using this program. Based on their IP address, country, and browser, you'll be able to determine where your visitors are coming from.
Block certain people or countries from whom you get detrimental visits. The banned user will be sent to a website of your choosing, where you may write a message informing them that they will be unable to access your online shop.
Pros
Easy to block visitors from an entire country
Offers clear reports
You can leave a customized message for blocked users
Cons 
Visitors can still bypass it with VPN
Key Features
Block users from entire countries
Block based on web browser
Redirect blocked users to any website
Pricing
Free plan is there with up to 3 countries. You can access more by purchasing a premium plan at $2.99 per month.
My Overall Impression
When you don't want certain people to access your online store, this is a helpful tool to use.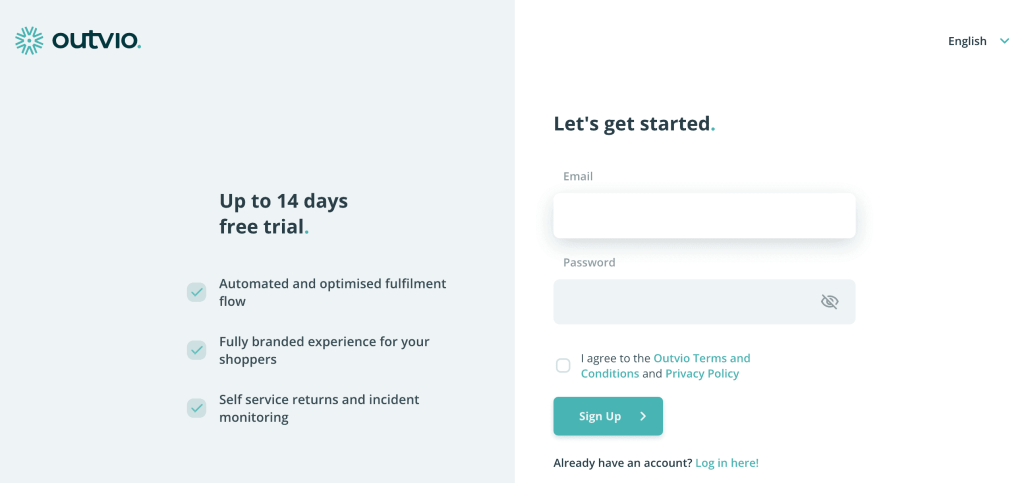 Outvio allows you to connect any online business to dozens of carriers swiftly and simply. Streamline and optimize your whole post-sale process, from order receipt through delivery to your customers. Outvio's marketing solutions assist you with shipment, tracking, shipping-issue management, return automation, and client loyalty development. Outvio is created for online retailers who want to enhance their customers' sales experience as well as automate and optimize their order fulfillment and shipping resources.
Pros 
Automates numerous processes
Works with multiple courier services
You can use it regardless of what you sell
Cons
Not capable of helping you to maximize resources
Key Features
Connect with dozens of couriers instantly
Automated returns
Improve overall sales experience
Pricing
Starting plan of Outvio is at $29 per month.
My Overall Impression
If you want to streamline order fulfillment, this is a great tool to use as of now.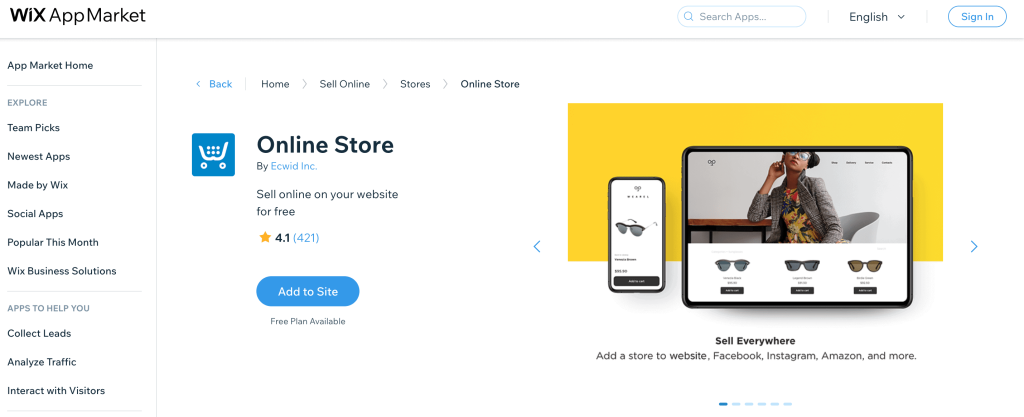 This Wix software lets you to integrate an online shop into your website as well as your social media accounts such as Amazon, Instagram, Facebook and other sales or marketing channels. With automated advertisements on Google Shopping and Facebook, it may also assist you optimize your marketing plan. Because inventory, orders, and pricing are all centralized, you can manage your whole online business from your phone via a single dashboard.
Pros
You can manage entire store
Offers automated features
Manages multiple accounts
Cons
Key Features
Add multiple websites to online store
User-friendly dashboard
Offers centralized inventory view
Pricing
Apart from the free plan, the starter plan starts at $6.63 per month with up to 50 products.
My Overall Impression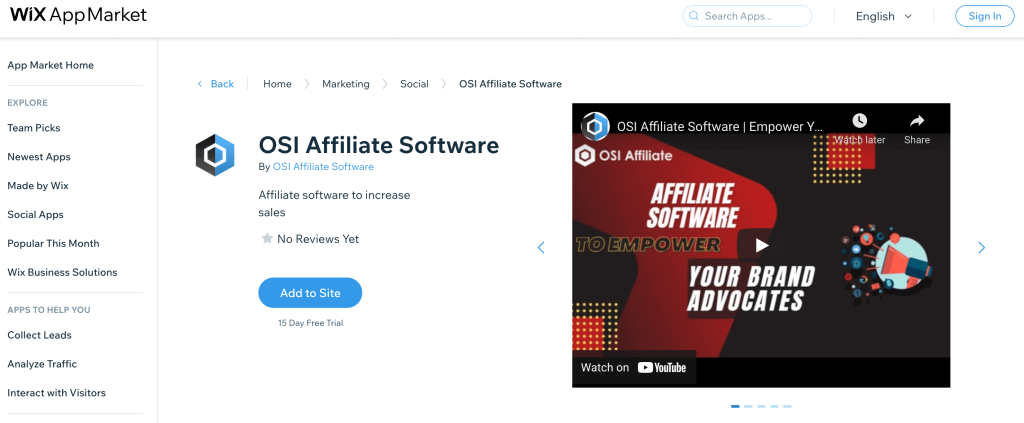 Do you want to showcase your gleaming customer reviews and build more credibility? Then you should be using this widget for your Wix Store. You will also be able to effectively manage customer reviews, which will assist you with displaying the best ones out of them.
Pros 
Helps you build trust
Review aggregation
Manage customer reviews based on classification
Cons 
Lack of customization features
Final Words
Now you are aware about the right tools to be added to the Wix Store. Go through these options and make sure that you proceed with adding the best ones out of them.