//=get_the_date()?>
8 Best Ecommerce Email Marketing Software (Updated Sep 2021)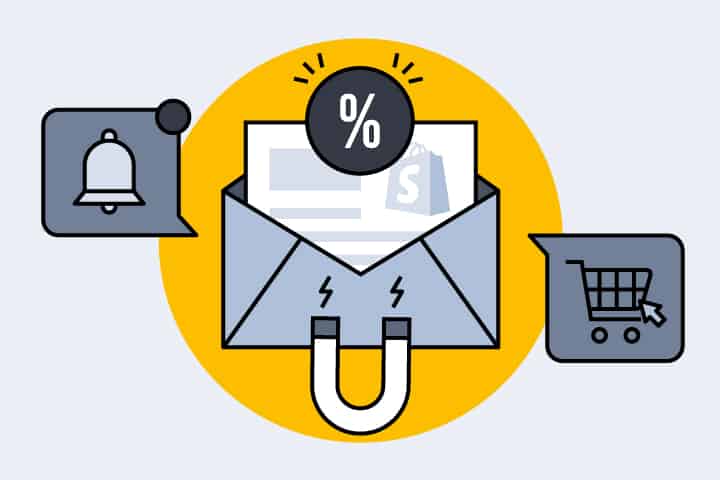 Email marketing is a powerful method that can boost your rankings, increase traffic to your website, and generate more revenue. But do you know which email marketing software will work best for your business? In this article, we compare the eight top-rated options to help you make an informed decision about what's suitable for your company's needs
Why Should You Choose the Right Email Marketing Service?
You can't afford to ignore email marketing in your business strategy. According to the Direct Marketing Association (DMA), email is an affordable way for small businesses to reach their target audience with minimal overhead cost and high returns on investment. This information makes email marketing software perfect for a company's paid acquisition strategy.
Email marketing has become more than just sending out promotional updates from time to time; now, you have the opportunity to stay on top of the mind of your customers by delivering relevant information regularly. It is all about getting to know your customers and knowing what they need in their customer journey.
The email software that you select for your marketing campaign is fundamental to the success of it. If you pick a bad one, then all your hard work will go down the drain because nobody can see what's in there.
It's essential not just to have deliverability and features; but also cost-effectiveness so that you don't waste money on things like terrible customer service or lack of customizability when designing emails (not even mentioning how much time would be wasted).
How to Find the Right Email Marketing Software
The right email marketing software should allow you to create highly engaging and personalized emails, which is also known as personalization. In a drag-and-drop editor, all of your customizations can be done with ease so that each recipient receives their own customized message — no more making the same generic template for everyone!
Also, look for bulk sending features. With just one click, you should be able to send personalized and targeted emails to all of your contacts.
Also, a good email service provider is only worth its salt when your emails don't end up in the spam folder. So ensure that your email software allows all of your messages to reach your customer's inbox.
The best email marketing services are discussed below.
Let's take a look at the most popular email service providers on the market today.
Drip is an email marketing platform that offers a wide range of tools to make it easy for you to create your own email marketing campaigns. They provide seamless integration with all popular website builders, including WordPress and WooCommerce, making it easier than ever before to add pop-ups or opt-in signup forms on your site and get more leads!
Mailchimp is a popular, well-known email marketing service provider that offers an easy-to-use drag and drop builder along with autoresponders. Mailchimp also allows you to track your analytics from anywhere in the world. Their free plan allows you to have up to 2,000 contacts giving you a chance to test drive the software before paying for it.
Constant Contact is one of the world's largest and fastest-growing email marketing services. Constant Contact also has a very easy-to-use interface, making it an excellent choice for beginners and experienced users looking for features like automation drip campaigns, surveys, polls, coupons, and A/B testing.
AWeber is the go-to provider of email marketing for small and medium-sized businesses. They offer a wide range of tools, from managing your list to writing compelling emails that convert leads into customers. AWeber is an email marketing software that gives AMP emails, automatic RSS-to-email for bloggers, and tag-based subscriber segmentation. In addition to these powerful features, they also offer live chat, phone support, email support with a vast library of how-tos and tutorials.
GetResponse is a revolutionary email marketing solution that will help you skyrocket your profits with ease. They offer some great and easy-to-use tools to simplify the process of designing an automated campaign for all those who need it. The drag and drop builder, which comes equipped with segmentation options so that you can develop tailored messages perfect for specific groups or individuals, makes it simple to create campaigns designed specifically for maximizing sales or boosting your engagement rates.
SendinBlue is a robust SMS and email marketing platform for online businesses. It is one of the fastest-growing email marketing software in Europe, with simple drag-and-drop capabilities that make it easy to create beautiful emails.
SendinBlue is a powerful email marketing automation platform that helps you grow your business. First, it lets you send transactional emails like order confirmations and password resets without logging into the inbox of each customer one at a time. It also provides tools for automating follow-up emails sent automatically on preset schedules if there's been no response from an individual after two weeks or so. Finally, SendinBlue even uses AI algorithms in bulk mailings to analyze how many recipients open their messages and what best days/times they should be delivered based on geographical location and more!
Campaign Monitor is a top-rated email marketing tool that enables marketers to create targeted emails and reach their audience on an individual level. You can achieve beautiful results in just minutes with templates, a drag-and-drop builder, engagement-based segmentation options – all without any technical expertise.
ConvertKit is a marketing automation platform that allows you to manage email signups from your forms easily. With this easy-to-use service, you can track subscribers and segment them by whether they have already purchased or are not interested in the content upgrades offered through the Form feature. This way, automated emails with a more personalized feel will increase conversions for any business.
We all know that a successful business needs excellent marketing. Email is one of the most critical forms of digital advertising today, and there are many email providers to choose from out there. So how do you decide on which provider will be best for your company? Well, it is all up to you. It may be best to assess the needs of your business so you can choose the most relevant email software that can meet your needs.