//=get_the_date()?>
Top eCommerce Sites In 2021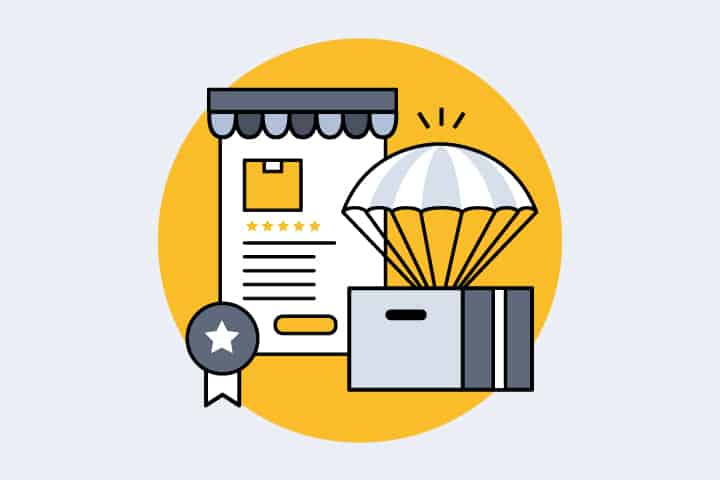 eCommerce sales are fueling online competition. In the 21st century being online is essential. It feels like yesterday when shoppers have to leave the comfort of their homes, get stuck in traffic to reach the market to buy a couple of things.
The eCommerce industry has blossomed in the past 10 years. Hundreds of thousands of companies have now shifted their brick-and-mortar business to the digital market.
Merchants who were previously skeptical about taking their brick-and-mortar business to a digital platform were forced to do so because they had no choice left if they really wanted to save their business.
Moreover we believe it's the pandemic that brought a massive disruption in the eCommerce business landscape. The changes in the eCommerce industry that were supposed to happen in 10 to 15 years, happened in just 90 days.
Since the eCommerce industry has become so crowded, generating leads and making sales has become more challenging than ever. The competition in the market is heated-up.
Only a few companies are able to bring in sales and take up the biggest part in the market share. Jeff Bezos started Amazon in his warehouse back in 1994 and today he is the richest man in this world with a net worth of $113 Billion.
Today in this article, we'll explore the top eCommerce players in the industry by looking up at the top eCommerce sites
So let's get started.
Amazon
Traffic : 2.5 Billion per month
SimilarWeb Global Rank :12
Primarily Jeff Bezos started Amazon in 1994 as an eCommerce store for books. But after a couple of months they expanded their business and started dealing in all the latest and trendy products like electronics, DVDs etc. The rest is history.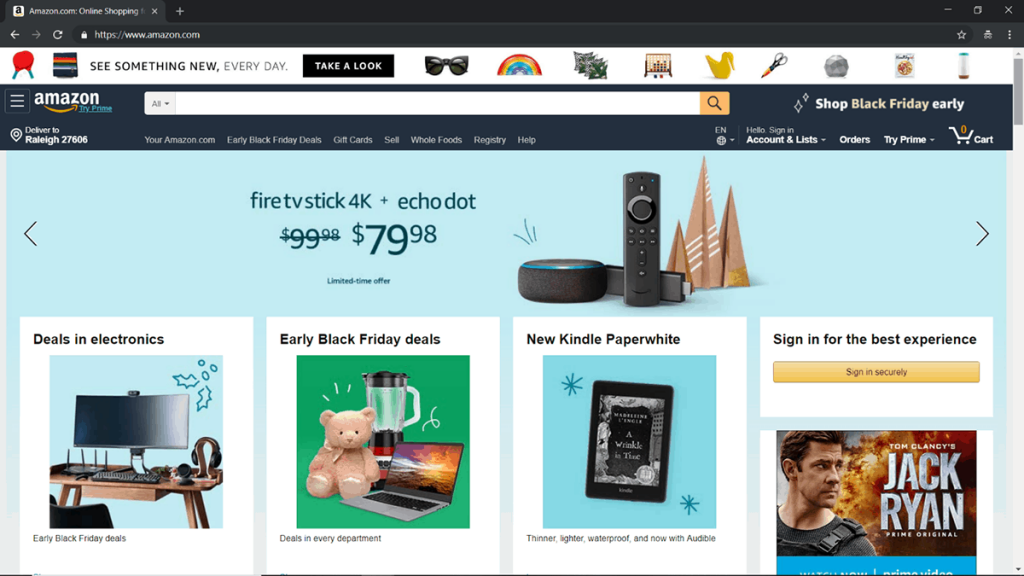 Today, Amazon deals with hundreds and thousands of products including apparel, media, furniture, toys, food, and jewelry. Amazon has become the global leader in the eCommerce industry as it makes largest sales and profits in the whole eCommerce world.
Amazon has made it to the top 10 list of eCommerce websites and we have no doubts about that. When it comes to data collection, Amazon is highly data-driven. Through their website they extract crucial data that they analyze later on to improve customer experience to generate more sales.
eBay
Traffic : 850 Million per month
SimilarWeb Global Rank : 29
This popular American eCommerce company , eBay in late 1995 just one year after the launch of Amazon. Seems like Pierre Omidyar was all set to give a tough time to Jeff Bezos. eBay is the first eCommerce store in the industry that introduced the concept of  the marketplace to the eCommerce shopping cart sites.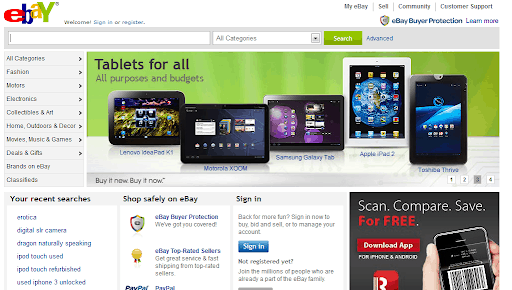 eBay certainly brought revolution in the eCommerce industry. It is an eCommerce platform that provides a marketplace for B2C and C2C transactions. This eCommerce platform allows merchants to join and add their products for sale.
The bidding feature eBay offers on it's eCommerce platform makes it unique from the rest. The product is displayed on sale and the interested parties get the opportunity to bid on the product, the one who bids highest gets the product.
Pretty interesting right?
Rakuten
Traffic : 550 Million per month
SimilarWeb Global Rank : 37
Among thousands of eCommerce stores, Rakuten stands on the top in the eCommerce market of Japan. It was founded back in 1997. After the pandemic broke out and people were restricted in their homes, they started shopping online because of which Rakuten was able to make $365.6 million profit in the first quarter of 2020.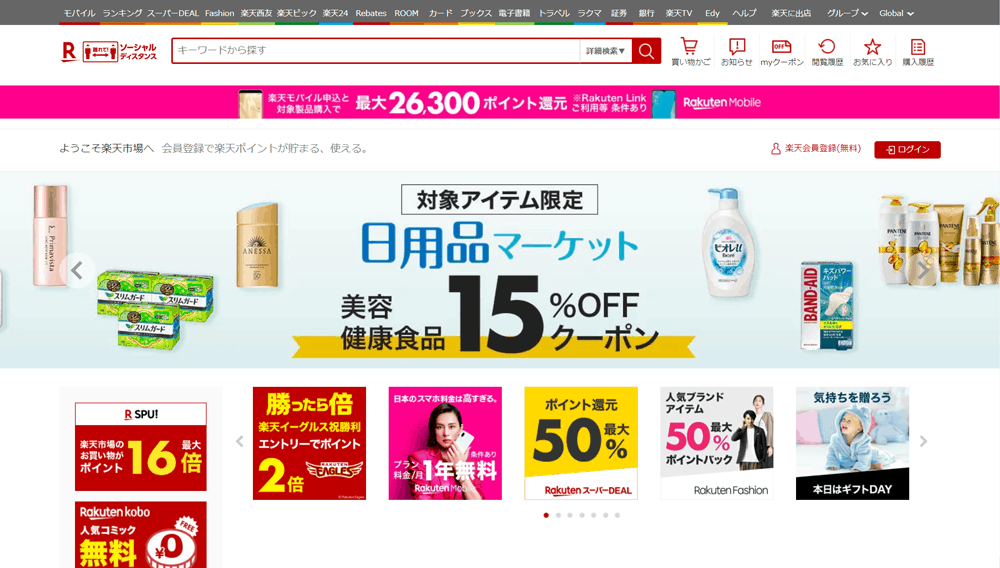 Almost 90% of Japanese internet users have registered an account on this popular eCommerce site. It is also commonly known as the " Amazon of Japan". It's a huge eCommerce site in japan that hosts more than 40,000 businesses.
The global transactions of Rakuten is climbing up to 13 trillion Yen.
Home Depot
Traffic : 129.5 Million per month
SimilarWeb Global Rank : 156
Home Depot is not one the largest and most popular home improvement retail chains but it's also one of the top eCommerce stores in the eCommerce industry. They deal in all kinds of home products including light bulbs, hardwood flooring, bathroom vanities, rugs, washer and much more.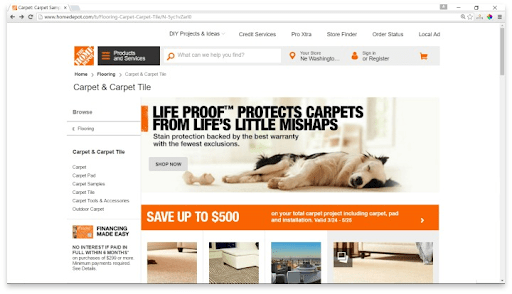 Most of the Home Depot customers prefer the click and mortar model – ordering products on the eCommerce store of Home Depot and collecting the order from the retail store.
You might not be aware of this fact but many production houses purchase set supplies and props from Home Depot. They have provided supplies for the two most popular Marvel movies, Captain America : Civil War and Ant-Man.
Zappos
Traffic : 17.87 Million per month
SimilarWeb Global Rank : 2346
Zappos – a popular eCommerce brand in the market that is well-known for its outstanding customer services. This eCommerce company offers exceptional customer support in the whole eCommerce industry. The primary goal of Zappos was to 'WOW' all its customers by providing excellent customer services without any terms and conditions.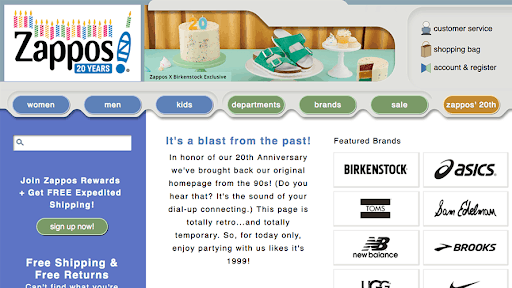 Zappos was in 1999 by Tony Hsieh. Without getting any external investments and funds, he had only $500,000 in his hand which he invested to launch his eCommerce store.
The only objective he had in his mind was to launch a digital store that offers the best customer services.
The best part of this eCommerce store is they don't charge shipping, purchase cost or return fees. If you don't like the product you can return it and can get a full refund.
Jeff Bezos (Amazon's owner) wanted to buy Zappos for $1200 million back in 2009, but Heish rejected the great offer because he wanted to operate Zappos independently and wanted to make his own identity.
Today, Zappos is not only the top eCommerce site but has become one of the top 10 eCommerce brands in the world.
Since Zappos is known for its spectacular customer services, they always hire a customer representative who is not only well-qualified and professional but also possesses a good character.
They offer customer service training to all the candidates before they finally take up their final position.
We believe every eCommerce brand should train each and every employee for this because that's what every customer looks for.
Key Takeaways
Being online is no more a choice, it's obligatory now. Since the eCommerce market has become more competitive than ever, it becomes difficult to strive and thrive. Establishing your eCommerce brand is challenging but not impossible.
All the eCommerce brands we have discussed in this article started from scratch and today they are ruling the eCommerce world. They all have some distinctive qualities which make them unique from the rest.
All the sites we have mentioned in this article have massive traffic rates which means people are purchasing a lot from them. Secondly, other language eCommerce sites like Rakuten was able to make it to the top websites list which means eCommerce sites are gaining popularity across the globe.
To recapitulate, all these eCommerce companies have massively influenced the eCommerce business landscape.
If you're planning to launch your eCommerce website>, we strongly suggest you take these big brands websites into consideration and observe every aspect of them. Determine which eCommerce trends they're following, how well-optimized their site is and what features they're using to improve the customer experience.