Instagram Marketing For E-commerce – Smart Strategies For Online Success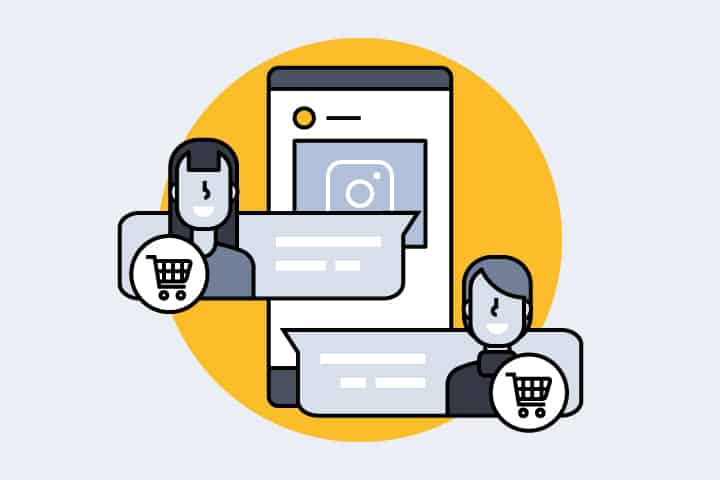 The world of e-commerce is more competitive and lucrative than ever. For business owners, the ability to sell products worldwide, to an enthusiastic group of customers, is almost irresistible.
At the same time, there are challenges everywhere, and the e-commerce landscape has never been more crowded. If you want to stand out in such a difficult online environment, you need to stay one step ahead of the competition.
One of the biggest distinguishing factors in the world of e-commerce is marketing prowess. As the level of competition increases, savvy marketing techniques could mean the difference between enormous success and a business-ending failure.
This surge of growth and opportunity has spilled over into social media platforms like Instagram, which can now be used as a resource to generate exposure and sales in the E-comm space.
In the end, e-commerce marketing is not one thing; rather it is an interconnected array of various techniques, some brand new and others as old as the internet itself. Let's talk about some of these popular strategies including the best Instagram strategies you can use to get more sales.
Social Media Outreach
The world of social media is changing rapidly, but sites like Instagram still enjoy an outsized influence. That influence extends beyond finding old friends and making new ones. Social media is a powerful platform for e-commerce marketing, and if you are not engaged, you could be missing out on a golden opportunity.
There are many ways to harness the power of social media, from reaching out to customers and advertising giveaways to hosting online contests and posting social-only coupons. Having a well built out Instagram profile that is compelling and showcases your products well is the minimum.
What you do on social media is up to you, but it is important to evaluate the effectiveness of any e-commerce marketing strategy.
Influencer Marketing
While every customer matters, some opinions are more influential than others. That is the idea behind influencer marketing on Instagram, a more recent form of e-commerce advertising on that has gained significant traction in recent years.
As the name implies, influencer marketing uses the power of influential individuals to improve the visibility of your products and help you build a better brand. Some of these influencers are popular only on Instagram, while others also have large followings on YouTube and other video sites. No matter where they are or how you find them, these high-profile men and women can have a profound impact on your bottom line results.
Getting your products used or mentioned by a popular source on IG whose audience fits your target buyers is a major way to get exposure.
Hidden Benefit of Good SEO for Insta Marketing
Why would we mention SEO? Imagine this: You hire an influencer to showcase your product on their Instagram stories or in a post. A large percentage of people who saw it and were interested hopped over to google to search for the brand name or product and check it out or get more info. Your site is not showing up and they just give up. This critical error caused you traffic and sales by not being clearly visible when someone needed to find you.
In a perfect world, you want your site to be on the front page for your most important searches, but at minimum for your brand name. That is why search engine optimization, known in the marketing industry as SEO, is one of the many essential digital marketing methods you need to at least put a little focus on if you are promoting your products on Instagram and other platforms.
There are various ways to build search engine optimization into your e-commerce website, from providing quality relevant content and having good product pages built out with in-depth details, photos, and fully optimizing them. As with other parts of e-commerce marketing, a combination approach to SEO is often the winning strategy.
Exceptional Customer Service on Social
Social media outreach can all help you gain customers, but keeping those buyers happy is another story. Without exceptional customer service, no amount of marketing will be effective in the long term.
You can use your social media outreach to improve your customer service efforts, allowing you to focus on what works best. From customer service satisfaction surveys to direct engagement on Instagram and other social networks, there are strategies you can use to enhance your customer service efforts and take your sales to the next level.
The strategies outlined above could jump start your e-commerce efforts and help you succeed like never before, but even the most effective marketing techniques cannot stand on their own. To achieve success in an increasingly challenging online environment, business owners need to optimize their efforts, combining various strategies for success and constantly testing the efficiency and effectiveness of all of those marketing efforts.